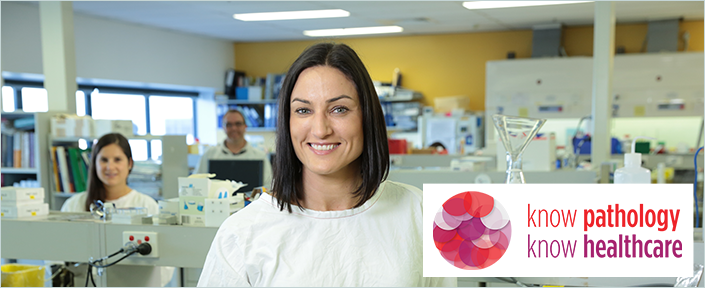 The Value of Pathology to Healthcare
Last updated: 03rd February, 2022
Products are for professional/laboratory use only.
Abacus dx is a supporter of Know Pathology Know Healthcare, a campaign that strives to help Australians better understand what pathology is and the incredible value that pathology tests provide to healthcare. The initiative is run on behalf of Pathology Awareness Australia (PAA), a group that represents interests across the entire field of pathology in Australia.
The formation of PAA in 2013 was prompted by the discrepancy between the publicly perceived value of pathology (very low) and the actual value of pathology to healthcare (very high). The founding members saw the need to jointly promote pathology as a vital and highly skilled medical profession, to the benefit of all those working in the field.
Know Pathology Know Healthcare has been designed with the following aims in mind:
– To educate Australians about what pathology is and the value it represents
– To let Ministers of Parliament know that Australians value their pathology services and they should be protected
This is done through the following activities:
– Hosting the website – www.knowpathology.com.au to explain the value of pathology
– Generating media stories about pathology
– Provision of expert medical comment to journalists
– Coordinating laboratory tours for politicians and patients
– Holding pathology information sessions at Australian Parliament House
– Collaborating with similar organisations to educate people about pathology
function resizeCTA(){
jQuery(".em_ctab__cta_main_container").each(function(){
var containerHeight = jQuery(this).outerHeight(); var containerWidth = jQuery(this).width();
var content = jQuery(this).find('.em_ctab__cta_content p'); var button = jQuery(this).find('.em_ctab__cta_button');
button.css('top', (containerHeight/2 - button.outerHeight()/2) );
var marginRight = button.outerWidth() + 25;
content.css('margin-right', marginRight);
});
}
jQuery( window ).resize(function() { resizeCTA(); });
jQuery(document).ready(function(){ resizeCTA(); });
Go Back