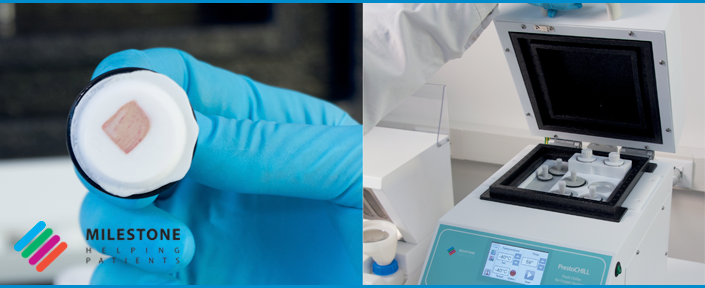 Update of the Best Operating Procedures for PrestoCHILL
Last updated: 03rd February, 2022
Products are for professional/laboratory use only.
Milestone has just revised the Best Operating Procedures (BOP-102 and BOP-105) for processing of frozen sections using the PrestoCHILL.
BOP-102 How to freeze breast and fatty tissues
Fatty tissues are known to be difficult to cut as they don't freeze at the usual temperature of the cryostat chamber. Milestone has developed a two-step simple method to easily freeze and cut fatty tissues or even pure fat. View BOP102
BOP-105 How to freeze muscle tissues
Obtaining high quality-frozen sections from muscle tissues is difficult because of the high-water content, which generates large holes during the freezing step.
Milestone has developed a simple method to obtain high-quality muscle frozen sections by adopting a vertical orientation of fibers during the freezing step and an innovative thermal cycling of the unstained slides. View BOP105
 
These are very easy, step-by-step application guidelines supported by video tutorials.
 
function resizeCTA(){
jQuery(".em_ctab__cta_main_container").each(function(){
var containerHeight = jQuery(this).outerHeight(); var containerWidth = jQuery(this).width();
var content = jQuery(this).find('.em_ctab__cta_content p'); var button = jQuery(this).find('.em_ctab__cta_button');
button.css('top', (containerHeight/2 - button.outerHeight()/2) );
var marginRight = button.outerWidth() + 25;
content.css('margin-right', marginRight);
});
}
jQuery( window ).resize(function() { resizeCTA(); });
jQuery(document).ready(function(){ resizeCTA(); });
Go Back