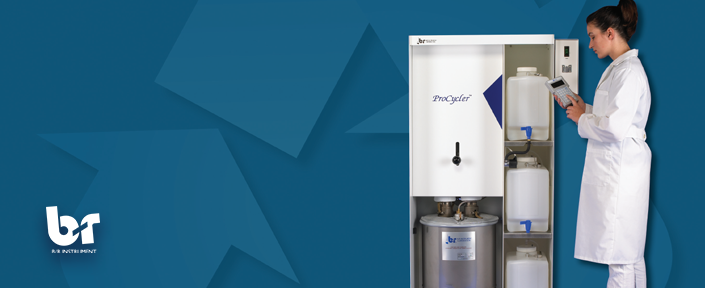 What makes B/R solvent recycling safe?
Last updated: 26th August, 2021
Reduce your solvent costs by recycling with the added bonus of helping the environment.
You can feel good about saving money and saving the environment. It's not often that you can do something that reduces health care costs, saves money for your lab/hospital and makes our world a better place. And it's safe to use.
What makes B/R Solvent Recyclers so Safe … since 1986?
Safety Reminders
The operator must confirm each safety question before recycling can begin.

Recycling Safely Contained

Fully contained distillation columns & boiler in sturdy stainless steel to prevent vapor emission. The solvent vapor moves from the thick stainless steel boiler to the thick stainless steel distillation column.  The solvent vapor then goes to the metal condenser which converts the vapor to a liquid.  The cool, recycled liquid solvent is collected in a carboy and the solvent temperature is very close to room temperature. 
Ventilation

Ventilation is not necessary, but the ProCycler series of recyclers are equipped with a ventilation connection port for those who would like to connect the recycler to ventilation for added peace of mind.
Vapor Sensor

Every B/R solvent recycler includes a vapor sensor with adjustable trip point. If the background vapor level in the lab ever rises above the trip point, the recycler will go to a safe, paused mode and sound an audible alarm. 
function resizeCTA(){
jQuery(".em_ctab__cta_main_container").each(function(){
var containerHeight = jQuery(this).outerHeight(); var containerWidth = jQuery(this).width();
var content = jQuery(this).find('.em_ctab__cta_content p'); var button = jQuery(this).find('.em_ctab__cta_button');
button.css('top', (containerHeight/2 - button.outerHeight()/2) );
var marginRight = button.outerWidth() + 25;
content.css('margin-right', marginRight);
});
}
jQuery( window ).resize(function() { resizeCTA(); });
jQuery(document).ready(function(){ resizeCTA(); });
Go Back