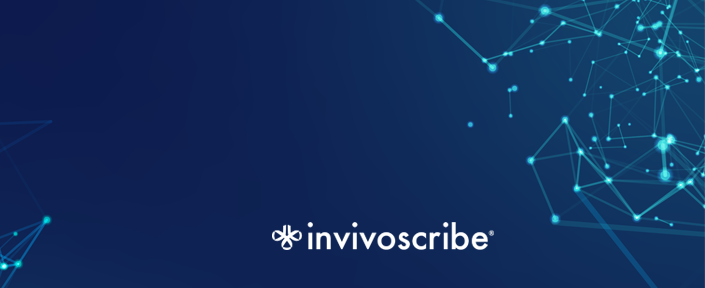 Invivoscribe's EHA Symposiums Now Available on Demand
Last updated: 03rd February, 2022
Products are for professional/laboratory use only.
The Invivoscribe symposiums presented during the 25th European Hematology Association Virtual Congress are now available to watch on demand.
NGS-Based Clinical Assessment of Hematologic Malignancies: B- and T-Cell Clonality, Somatic Hypermutation and MRD Detection
Incorporating NGS Methods for Routine Clonality Assessment and Disease Monitoring of Lymphoid Malignancies
Dr. Maria Arcila – Memorial Sloan Kettering Cancer Center, NY, United States
Clonality analysis with NGS is the new frontier in MRD detection
Prof. Sara Galimberti – University of Pisa, Department of Clinical and
Experimental Medicine, Italy
Next Generation Analysis in CLL and Other Malignancies
Prof. Dr. Markus Tiemann – Institute for Hematopathology Hamburg, Germany
---
---
LymphoTrack Dx IVD Assay kits are designed for the identification of gene arrangements in haematologic samples utilising NGS technologies.
Invivoscribe NGS assays offer:
Significant improvement over conventional fragment analysis of B- and T-cell gene rearrangements to provide detailed information regarding the DNA sequences, sequence frequency and mutational status (IGHV Leader and IGH FR1 assays only) of each clonotype
A complete solution with each kit containing ready-to-use indexed amplification master mixes, necessary controls and complimentary bioinformatics software
Streamlined workflow: primers are designed with barcoded indices and adaptors, sequencing libraries can be generated with one-step PCR, eliminating the need for a post-PCR ligation step
Assays for Illumina® MiSeq® and Thermo Fisher Scientific® platforms
Available as IVD, ARTG 255352
---
---
function resizeCTA(){
jQuery(".em_ctab__cta_main_container").each(function(){
var containerHeight = jQuery(this).outerHeight(); var containerWidth = jQuery(this).width();
var content = jQuery(this).find('.em_ctab__cta_content p'); var button = jQuery(this).find('.em_ctab__cta_button');
button.css('top', (containerHeight/2 - button.outerHeight()/2) );
var marginRight = button.outerWidth() + 25;
content.css('margin-right', marginRight);
});
}
jQuery( window ).resize(function() { resizeCTA(); });
jQuery(document).ready(function(){ resizeCTA(); });
Go Back