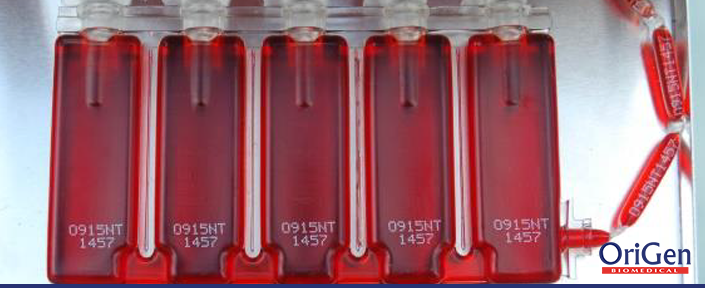 Technical Bulletin: OriGen Biomedical CryoStore Instruction for Use
Last updated: 18th June, 2019
Abacus dx would like to inform you of a change to the OriGen Biomedical CryoStore Instructions for Use (IFU).
OriGen Biomedical has recently updated the CryoStore IFU. The update includes the addition of the OriGen Biomedical CryoStore Multi-Chamber Freezing Bag product codes and the deletion of the maximum fill capacity section of the product fill volumes table. 
Update to the product fill volume table
The updated table has had the maximum capacity (mL) removed. The recommended freeze volume has been determined by horizontal freezing in standard cassette. If the bag is frozen in another way, the lab should determine the optimum fill volume.
---
CryoStore Multi-Chamber Freezing Bag
Useful for freezing blood components, the CyroStore Multi-Chamber Freezing Bag provides:
Traceability as each chamber is printed with unique numbers for easy identification and match the numbers on the tube set
Made from EVA, a durable and rugged material
Luer-actuated needle-free injection ports which eliminate the possibility of needle stick injuries
---
function resizeCTA(){
jQuery(".em_ctab__cta_main_container").each(function(){
var containerHeight = jQuery(this).outerHeight(); var containerWidth = jQuery(this).width();
var content = jQuery(this).find('.em_ctab__cta_content p'); var button = jQuery(this).find('.em_ctab__cta_button');
button.css('top', (containerHeight/2 - button.outerHeight()/2) );
var marginRight = button.outerWidth() + 25;
content.css('margin-right', marginRight);
});
}
jQuery( window ).resize(function() { resizeCTA(); });
jQuery(document).ready(function(){ resizeCTA(); });
Go Back