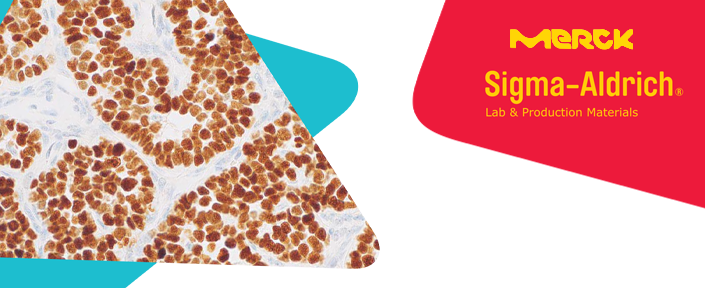 INSM1: an exciting new marker for Neuroendocrine diagnosis
Last updated: 06th September, 2022
Products are for professional/laboratory use only.
INSM1 (Insulinoma-associated protein 1) is an exciting new biomarker which will complement chromogranin A, CD56 and synaptophysin in your Neuroendocrine panel.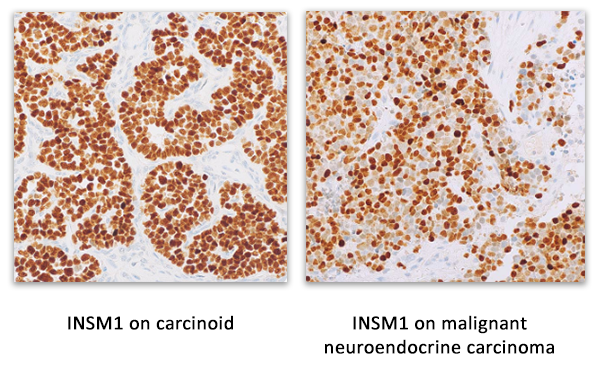 INSM1 is a transcriptional factor with a zinc finger DNA-binding domain that is involved in neuroendocrine cell differentiation as a transcriptional repressor1. INSM1 expression has been observed during embryonic development in the cerebellum, spinal cord, olfactory epithelium, pancreas, and gastrointestinal tract2-4; however, expression in healthy adult tissues is limited to neuroendocrine cells. INSM1 is over expressed in neuroendocrine neoplasms including carcinoids, small cell carcinomas, and neuroendocrine carcinomas. This helps in identification of neuroendocrine tumours and their distinction from other lesions, such as adenocarcinomas, which exhibit little to no INSM1 expression5-6.
---
References
Lan MS, et al. Structure, expression, and biological function of INSM1 transcription factor in neuroendocrine differentiation. FASEB J. 2009;23(7):2024-2033
Farkas LM, et al. Insulinoma-Associated 1 Has a Panneurogenic Role and Promotes the Generation and Expansion of Basal Progenitors in the Development Mouse Neocortex. Neuron. 2008;60:40-55
Rosenbaum JN, et al. INSM1 promotes the transition of olfactory progenitors from apical and proliferative to basal, terminally dividing and neuronogenic. Neural Dev. 2011;6:6
Gierl MS, et al. The zinc-finger factor Insm1 (IA-1) is essential for the development of pancreatic beta cells and intestinal endocrine cells. Genes Dev. 2006;20(17):2465-78
Rosenbaum JN, et al. INSM1: A Novel Immunohistochemical and Molecular Marker for Neuroendocrine and Neuroepithelial Neoplasms. Am J Clin Pathol. 2015;144:579-591
Mukhopadhyay S, et al. Insulinoma-associated protein 1 (INSM1) is a sensitive and highly specific marker of neuroendocrine differentiation in primary lung neoplasms: an immunohistochemical study of 345 cases, including 292 whole-tissue sections. Mod Path. 2018;32:100-109.]
function resizeCTA(){
jQuery(".em_ctab__cta_main_container").each(function(){
var containerHeight = jQuery(this).outerHeight(); var containerWidth = jQuery(this).width();
var content = jQuery(this).find('.em_ctab__cta_content p'); var button = jQuery(this).find('.em_ctab__cta_button');
button.css('top', (containerHeight/2 - button.outerHeight()/2) );
var marginRight = button.outerWidth() + 25;
content.css('margin-right', marginRight);
});
}
jQuery( window ).resize(function() { resizeCTA(); });
jQuery(document).ready(function(){ resizeCTA(); });
Go Back