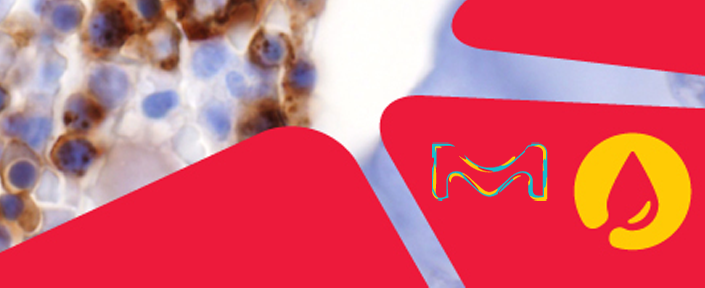 Lymphomas and Leukaemias Webinar
Last updated: 03rd February, 2022
Products are for professional/laboratory use only.
Abstract
Leukaemia and lymphoma are haematologic neoplasms that affect members of all age groups. Each year, over 140,000 people in the US are diagnosed with a haematologic malignancy of some kind.
With constant advancement of treatment options, the importance of accurate diagnosis and detection of lymphomas and leukaemias becomes more and more relevant to the survival of the patient, and immunohistochemistry has served as a key auxiliary test in determining these diagnoses. This presentation covers many of the basic science, facts, and statistics of haematologic malignancies, as well as the utility of immunohistochemical testing with markers such as CD20, PAX-5, CD61, CD71, Cyclin D1, and SOX-11 in the accurate diagnosis and survival rates of lymphoma and leukaemia.
 What Will You Learn?
The advancements in immunohistochemical methods that enhance haematopathology
The pathology of lymphoma and leukaemia
Innovative detection biomarkers including SOX-11, PAX-5, and CD71
Demonstration of advanced staining on clinical samples
 Who Should Attend?
Histotechnologists
Pathologists
Oncologists
Medical Directors
Lab Managers
Lab Technicians
Residents/Histotech Students
Health Care Professionals
Speaker Bio
Jeff Gordon
OEM Sales
MilliporeSigma
Jeff Gordon is the OEM Sales Manager for Millipore Sigma Tissue Diagnostics. He has a Bachelor of Science in Microbiology from the University of Arkansas. In his over 17 years in the diagnostic Immunohistochemistry industry, he has served as a technical consultant managing territories covering most of the United States and Canada, as International Sales Manager, and as the Director of Sales and Marketing for Cell Marque before transitioning to OEM Sales Manager as part of the Millipore Sigma corporation. His roles have involved sales, marketing, customer care/complaint handling, and product development. He has given over 60 IHC-related workshops and webinars at a local, state, national, and international level.
function resizeCTA(){
jQuery(".em_ctab__cta_main_container").each(function(){
var containerHeight = jQuery(this).outerHeight(); var containerWidth = jQuery(this).width();
var content = jQuery(this).find('.em_ctab__cta_content p'); var button = jQuery(this).find('.em_ctab__cta_button');
button.css('top', (containerHeight/2 - button.outerHeight()/2) );
var marginRight = button.outerWidth() + 25;
content.css('margin-right', marginRight);
});
}
jQuery( window ).resize(function() { resizeCTA(); });
jQuery(document).ready(function(){ resizeCTA(); });
Go Back