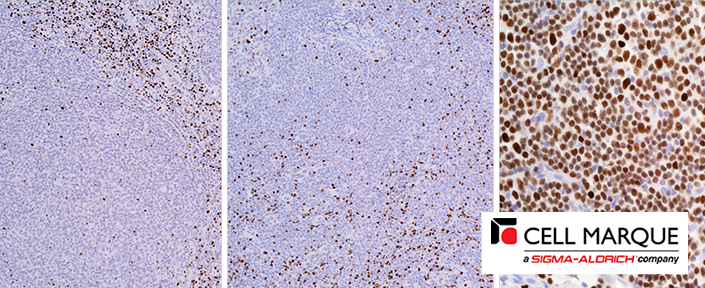 Spotlight on LEF1 (EP310)
Last updated: 03rd February, 2022
Products are for professional/laboratory use only.
Chronic lymphocytic leukemia/small lymphocytic lymphoma (CLL/SLL) are small B-cell neoplasms that make up almost 1% of all diagnosed cancers.1 Included in the differential diagnosis of small B-cell lymphomas from SLL/ CLL are mantle cell lymphoma, follicular lymphoma, and marginal-zone lymphoma. Small B-cell lymphoma subtypes are morphologically similar and can be distinguished from each other by immunohistochemistry. Although the common immunophenotype for CLL/SLL is CD20+, cyclin D1-, SOX-11-, CD23+, CD5+ and CD10-, there are variable percentages for each antibody marker that will show aberrant expression.
CD23 is the standard diagnostic biomarker for CLL/SLL; however, 10-15% of CLL/SLL will be CD23-negative.2 Because of this phenomenon, other differential diagnostic markers exhibiting sensitivity and specificity for CLL/SLL are desirable. Lymphoid-enhancer-binding factor-1 (LEF1) is a nuclear marker that is expressed in up to 100% of CLL/SLL.3 One study cited LEF1 as having a 92% specificity and 70% sensitivity for CLL/SLL lesions.4 This diagnostic function of LEF1 justifies its inclusion into standard B-cell lymphoma panels
Benefits of Rabbit Monoclonal LEF1:
For in vitro diagnostic use
Nuclear visualization for easy interpretation
Differentiates CLL/SLL from mantle cell lymphoma, follicular lymphoma, and marginal-zone lymphoma
May detect CD23-negative CLL/SLL lesions
References:
Tandon B, et al. Mod Pathol. 2011; 24:1433-43.
Menter T, et al. J Clin Pathol. 2015; 68:473-8.
Photo Information:
Right: LEF1 is expressed strongly and diffusely in small lymphocytic lymphoma.
Center: Mantle cell lymphoma tumor cells are negative for LEF1.
Left: LEF1 is negative in low-grade follicular lymphoma tumor cells.
function resizeCTA(){
jQuery(".em_ctab__cta_main_container").each(function(){
var containerHeight = jQuery(this).outerHeight(); var containerWidth = jQuery(this).width();
var content = jQuery(this).find('.em_ctab__cta_content p'); var button = jQuery(this).find('.em_ctab__cta_button');
button.css('top', (containerHeight/2 - button.outerHeight()/2) );
var marginRight = button.outerWidth() + 25;
content.css('margin-right', marginRight);
});
}
jQuery( window ).resize(function() { resizeCTA(); });
jQuery(document).ready(function(){ resizeCTA(); });
Go Back