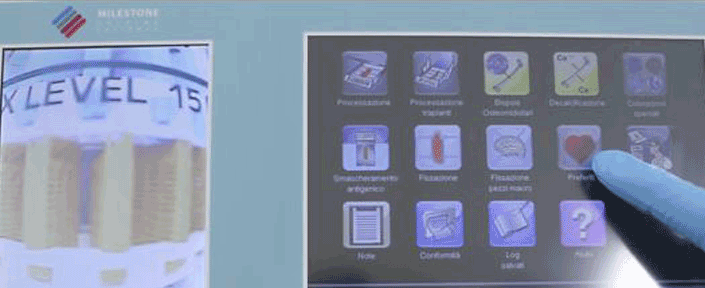 Ten good reasons to choose a KOS
Last updated: 04th February, 2022
Products are for professional/laboratory use only.
The Milestone KOS is a state-of-the-art multifunctional microwave tissue processor.  Read below to find out ten good reasons to choose a KOS.
1.  It's not a modified kitchen appliance
The KOS is an industrial engineered, laboratory grade, microwave unit designed specifically for the anatomical pathology lab and the following histology applications:
Bone Decalcification

Special Stains
Antigen Retrieval
Fixation
Gross Hardening
Tissue Processing
Electron Microscopy model available

2.  Easy-to-use
The KOS is icons driven and the user interface allows you to access information quickly. It only requires basic user maintenance.
 
3.  Optimized protocols
The KOS comes with factory stored protocols for tissue processing, decalcification, fixation, gross hardening, special stains and EM.  User's defined protocols can be created and stored. A "Favorites" menu enables the user to run them easily.
4.  Fully compliant
Milestone have always been concerned with safety and quality. All laboratory grade microwaves are fully compliant with CAP-C.L.S.I. Guidelines.
5.  Full Tech support
With over 70 years of combined histology experience, Milestone's applications support professionals have the answer to your questions.
 
6.  Specimen safety
Focused infrared automatic temperature control with laser positioning ensures your specimens are safe. The software controls the magnetic stirring for an homogeneous temperature distribution. A built-in re-generable charcoal filter placed on the exhaust outlet provides user safety.
7.  Lab safety
The full operation of the system is controlled by sensors. These built-in sensors will switch off microwave if:
Cavity ventilation is compromised
Solvent & Humidity in cavity is above threshold
Microwave leak is detected
 
8.  Full documentation
Through a USB port, data from the built-in Logbook is easily downloaded for documentation Purposes (Q.A. – ISO 9001 – G.L.P.)
9.  TV monitoring
A in-built TV screen allows for easy observation of the process in the cavity.
10.  Unique histomodule technology
The KOS modules are built for easy, safe handling of solutions while preserving the pH of the solution throughout the procedure.
---
function resizeCTA(){
jQuery(".em_ctab__cta_main_container").each(function(){
var containerHeight = jQuery(this).outerHeight(); var containerWidth = jQuery(this).width();
var content = jQuery(this).find('.em_ctab__cta_content p'); var button = jQuery(this).find('.em_ctab__cta_button');
button.css('top', (containerHeight/2 - button.outerHeight()/2) );
var marginRight = button.outerWidth() + 25;
content.css('margin-right', marginRight);
});
}
jQuery( window ).resize(function() { resizeCTA(); });
jQuery(document).ready(function(){ resizeCTA(); });
Go Back