Allergen Encyclopedia: Scientific Information on Whole Allergens and Allergen Components
Last updated: 01st September, 2021
Thermo Fisher Scientific ImmunoCAP range of allergy tests is the gold standard testing technology for specific IgE blood testing.  As pioneers in allergy diagnostics Thermo Fisher Scientific have more than 50 years of experience in allergen production and specific IgE product development. ImmunoCAP products are documented in more than 6,000 publications and referenced in multiple health guidelines.
---
---
ImmunoCAP is designed to offer high performance and reliable results
ImmunoCAP blood tests are sandwich tests, which means that the solid phase ensures binding of all relevant antibodies. This is achieved through an optimised amount of cellulose material with a very large surface area providing a uniquely high binding capacity in each ImmunoCAP test.
The ImmunoCAP test menu includes sIgE, sIgG, and sIgG4, and biomarkers for eosinophilic inflammation and mast cell activation. All tests are available on the automated range of Phadia instruments: Phadia 200, Phadia 250 and Phadia 2500 series. The ImmunoCAP specific IgE test menu covers a broad range of more than 550 allergens with allergen mixes, whole allergens, and more than 100 allergen components. Specific IgE tests are provided as single tests and multiplex formats.
Experience the Allergen Encyclopedia
The Thermo Fisher Scientific Allergen Encyclopedia is a comprehensive guide on hundreds of whole allergens and allergen components, including allergen codes, descriptions and characteristics, cross-reactivity, clinical experience, and more.
---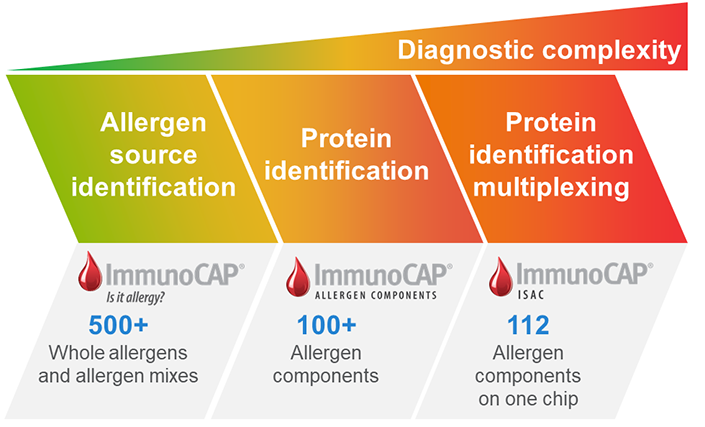 g
---
function resizeCTA(){
jQuery(".em_ctab__cta_main_container").each(function(){
var containerHeight = jQuery(this).outerHeight(); var containerWidth = jQuery(this).width();
var content = jQuery(this).find('.em_ctab__cta_content p'); var button = jQuery(this).find('.em_ctab__cta_button');
button.css('top', (containerHeight/2 - button.outerHeight()/2) );
var marginRight = button.outerWidth() + 25;
content.css('margin-right', marginRight);
});
}
jQuery( window ).resize(function() { resizeCTA(); });
jQuery(document).ready(function(){ resizeCTA(); });
Go Back