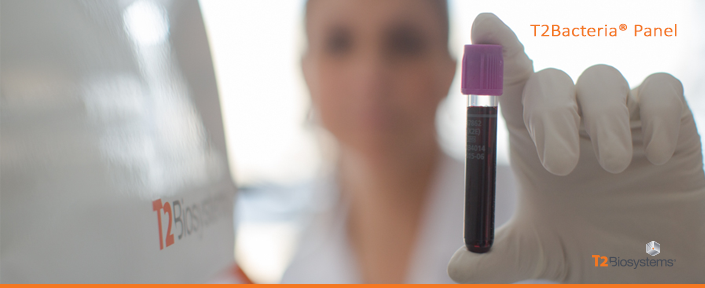 T2Bacteria® Panel
Last updated: 05th January, 2023
Products are for professional/laboratory use only.
Species identification in hours instead of days, including deadly ESKAPE pathogen
The T2Bacteria® Panel is a test to identify sepsis-causing bacteria directly from whole blood without the wait for blood culture.
T2Bacteria identifies:
50% of all bacterial bloodstream infections1
70% of all blood culture species in the emergency department2
92% of deadly ESKAPE pathogens3
T2Bacteria® Panel
95.8% Sensitivity*1 | 98.2% Specificity*1
Enterococcus faecium
Staphylococcus aureus
Klebsiella pneumoniae
Acinetobacter baumannii
Pseudomonas aeruginosa
Escherichia coli
T2Bacteria Panel provides species identification in 3 to 5 hours from whole blood.
By incorporating the Panel as part of the sepsis bundle, physicians can get more patients on the right therapy faster, thus improving empiric therapy protocols, potentially preventing the progression of sepsis, while increasing the chances of both patient survival and recovery.
Kits available for Research Use Only in Australia
---
---
1. Nguyen MH, et al. Annals of Internal Medicine 2019
2. Voigt, C, et al. Manuscript under review, 2019
3. Karlowsky, JA, et al. Annals of Clinical Microbiology and Antimicrobials, 2004
 *A combination of samples was run in both the prospective and contrived arms of the study. T2Bacteria showed an overall average sensitivity of 90% in the prospective arm of the study, with an overall average PPA of 97% in the contrived arm of the study.
function resizeCTA(){
jQuery(".em_ctab__cta_main_container").each(function(){
var containerHeight = jQuery(this).outerHeight(); var containerWidth = jQuery(this).width();
var content = jQuery(this).find('.em_ctab__cta_content p'); var button = jQuery(this).find('.em_ctab__cta_button');
button.css('top', (containerHeight/2 - button.outerHeight()/2) );
var marginRight = button.outerWidth() + 25;
content.css('margin-right', marginRight);
});
}
jQuery( window ).resize(function() { resizeCTA(); });
jQuery(document).ready(function(){ resizeCTA(); });
Go Back