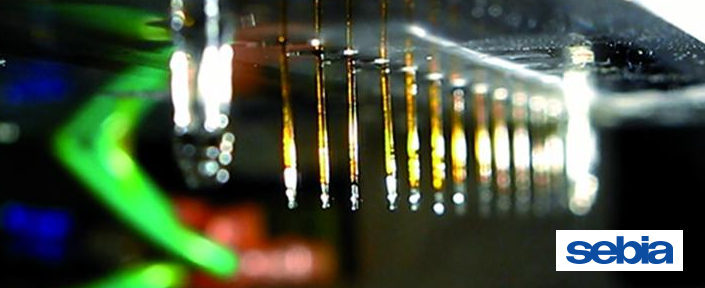 SEBIA: Capillary Electrophoresis
Last updated: 09th June, 2023
Products are for professional/laboratory use only.  Sebia are world leaders in Electrophoresis testing. Their capillary electrophoresis [CE] technology leads the market with systems to suit both small and large laboratories; along with a large test menu.
Their systems utilise the proven, high performance technology of capillary electrophoresis for clear separation of analytes. They feature whole blood analysis, with no pre-analytical preparation; cap-piercing for improved workflow.
---
Technology Principle
The Sebia systems use the principle of capillary electrophoresis in free solution.
Charged molecules are separated by their electrophoretic mobility at a specific pH in an alkaline buffer. Separation occurs according to the electrolyte pH and electroosmotic flow.
The Sebia capillary electrophoresis instruments are equipped with several parallel capillaries enabling multiple simultaneous analyses:
CAPILLARYS 3 TERA (12 capillaries)
CAPILLARYS 3 Octa (8 capillaries)
​Each sample is diluted in a dilution buffer and the capillaries are filled with the separation buffer; samples are then injected by aspiration into the anodic end of the capillary. A high voltage protein separation is then done; direct detection and quantification of the different protein fractions is performed at a specific wavelength at the cathodic end of the capillary.
Post analysis, the capillaries are immediately cleaned with a wash solution and then refilled with buffer in preparation for the next samples.
---
Comprehensive CE Menu:
Hb A1c venous & capillary blood
Haemoglobin
Serum Protein and Immunotyping
Urine Proteins and Immunotyping
NEONAT Hb
CDT/ CDTIFCC
---
---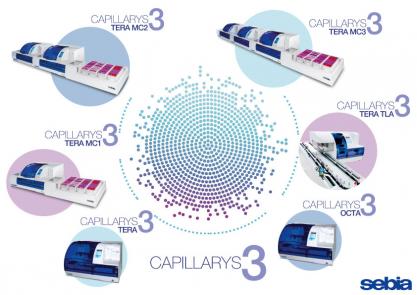 Capillary Electrophoresis Instruments:
Capillarys 3 Octa 
–  8 Capillaries
Capillarys 3 Tera
–  12 Capillaries
Capillarys 3 Tera MC configuration
–  Workcell with up to 3 Capillarys 3 Tera instruments attached.
---
---
Technical Characteristics
Positive ID & Reagent Traceability
– Reagent management through RFID tags
Batch optimisation
Continuous sample loading
Efficient mixing system with multiple sample inversions (HbA1c & Hb)
Sampling from open and capped tubes (cap piercing)
Sample type
– Serum
– Urine
– Whole blood (capped tubes), venous blood, capillary blood samples
– Cord blood
– Dry blood spots
Tube capacity: from 120 samples with the onboard loading to 600 samples with the additional tube loader
24/7 accessibility
Automatic start-up / shut down
Automatic maintenance
---
PHORESIS CORE Software:
Interpretation and results validation
Multi-criteria search function; including patient result history
SQL Client/Server database
– Networking of all Sebia Instruments, within a laboratory and between distant sites
– Decentralised validation
– Unlimited storage capacity of patient database
---
function resizeCTA(){
jQuery(".em_ctab__cta_main_container").each(function(){
var containerHeight = jQuery(this).outerHeight(); var containerWidth = jQuery(this).width();
var content = jQuery(this).find('.em_ctab__cta_content p'); var button = jQuery(this).find('.em_ctab__cta_button');
button.css('top', (containerHeight/2 - button.outerHeight()/2) );
var marginRight = button.outerWidth() + 25;
content.css('margin-right', marginRight);
});
}
jQuery( window ).resize(function() { resizeCTA(); });
jQuery(document).ready(function(){ resizeCTA(); });
Go Back