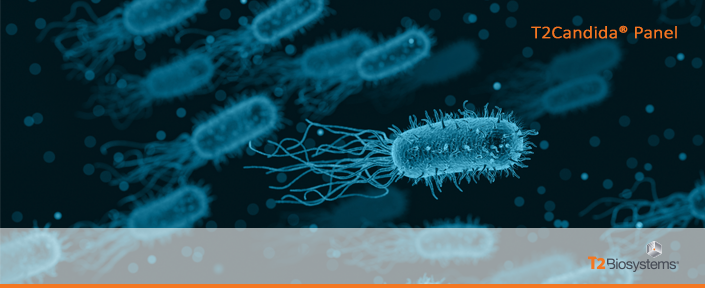 T2Candida® Panel
Last updated: 05th January, 2023
Products are for professional/laboratory use only.
Faster targeted therapy and reduction in empiric antifungal costs
The T2Candida® Panel is a direct-from-blood fungal pathogen detection assay, providing same-day results directly from a whole blood specimen for the most clinically relevant fungi.
The T2Candida 1.1 Panel identifies five species of Candida and categorizes them into the following three species groups:
Candida albicans and/or Candida tropicalis
Candida parapsilosis
Candida glabrata and/or Candida krusei
T2Candida's greatest clinical utility is for patients in any of these conditions1:
Admitted to the ICU
Have febrile neutropenia
Have septic shock
Have an LVAD and evidence of active infection
In ICU at high risk for candidemia
Reduction in mortality rates: Candida infections have an overall mortality rate of 40%, but if patients receive targeted treatment within 12 hours, the mortality rate can be reduced to 11%.2,3 T2Candida provides a clear and compelling solution, with results in just hours without waiting for slow-growing fungal infections, which are often mistaken as bacterial infections, to reach positivity.
Unprecedented speed and accuracy: The T2Candida Panel pivotal clinical trial demonstrated results in 3 to 5 hours.4 All other FDA-cleared Candida diagnostic methods require a positive blood culture. Blood culture misses up to half of infections and often will take 2 to 8 days to become positive.5 Only then can identification be performed. In most cases, a negative result is not confirmed for 5 days after collection and processing of the blood culture.
Faster targeted therapy: Faster time to appropriate therapy has been consistently demonstrated to reduce overall length of stay in the hospital and ICU and results in a savings of $30,000 per patient.6
Kits available for Research Use Only in Australia
---
---
1. Clancy CJ and Nguyen MH. Diagnostic Microbiology and Infectious Disease, 2018
2. Morrell M, et al. Antimicrobial Agents and Chemotherapy, 2005
3. Garey KW, et al.  Clinical Infectious Diseases, 2006
4. Mylonakis E, et al. Clinical Infectious Diseases, 2015
5. Clancy CJ and Nguyen MH. Clinical Infectious Diseases, 2013
6. Arnold HM, et al. Pharmacotherapy: The Journal of Human Pharmacology and Drug Therapy, 2010
function resizeCTA(){
jQuery(".em_ctab__cta_main_container").each(function(){
var containerHeight = jQuery(this).outerHeight(); var containerWidth = jQuery(this).width();
var content = jQuery(this).find('.em_ctab__cta_content p'); var button = jQuery(this).find('.em_ctab__cta_button');
button.css('top', (containerHeight/2 - button.outerHeight()/2) );
var marginRight = button.outerWidth() + 25;
content.css('margin-right', marginRight);
});
}
jQuery( window ).resize(function() { resizeCTA(); });
jQuery(document).ready(function(){ resizeCTA(); });
Go Back