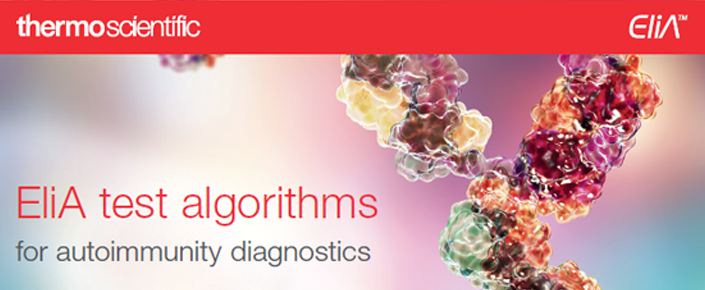 Antiphospholipid Syndrome and EliA APS
Last updated: 16th May, 2022
Products are for professional/laboratory use only.
Antiphospholipid syndrome (APS) is an autoimmune disease which is characterized by the formation of various antibodies against phospholipids and a blood hypercoagulability. It may occur as an independent disease, or be associated with a range of rheumatic diseases such as SLE, SjS or RA.1
At least one clinical and one laboratory diagnostic criteria must be present to establish the final diagnosis. A laboratory diagnostic classification criterion is regarded as met if two consecutive tests are positive conducted at least 12 weeks apart for lupus anticoagulant or antiphospholipid. Antibodies against cardiolipin (IgG/IgM) or β2-Glycoprotein I (IgG/IgM).2
Why choose EliA Cardiolipin and EliA β2-Glycoprotein I for APS diagnosis?
Excellent performance supporting the diagnosis of APS with EliA Cardiolipin and  EliA β2-Glycoprotein I IgG, IgM and IgA* with high sensitivity and excellent specificity
High level of standardization
Complete automation and operational testing efficiency on Phadia Laboratory Systems: Phadia 200/250/2500 range
Move to EliA for the detection of APS associated antibodies and join the ANZ market in providing your patients with the highest quality results utilising high clinical relevance assays.
---
References
Saigal R, Kansal A, Mittal M, Singh Y, Ram H. Antiphospholipid antibody syndrome. J Assoc Physicians India. 2010;58:176-84.
Miyakis S, Lockshin MD, Atsumi T, Branch DW, Brey RL, Cervera R, et al. International consensus statement on an update of the classification criteria for definite antiphospholipid syndrome (APS). J Thromb Haemost. 2006;4(2):295-306.
Lakos, G. et al. Isotype distribution and clinical relevance of anti-beta2-glycoprotein I (beta2-GPI) antibodies: importance of IgA isotype. Clin Exp Immunol 117, 574-579 (1999).
* Isolated elevation of IgA anti-cardiolipin and anti-β2-GPI antibodies can occur in APS patients3. The more markers / isotypes are found positive, the higher the probability for APS1. Internal study shows that the test sensitivity and specificity of EliA Cardiolipin IgA are 21% and 98.5%, for EliA β2-Glycoprotein I IgA are 44% and 96.5%, respectively.
function resizeCTA(){
jQuery(".em_ctab__cta_main_container").each(function(){
var containerHeight = jQuery(this).outerHeight(); var containerWidth = jQuery(this).width();
var content = jQuery(this).find('.em_ctab__cta_content p'); var button = jQuery(this).find('.em_ctab__cta_button');
button.css('top', (containerHeight/2 - button.outerHeight()/2) );
var marginRight = button.outerWidth() + 25;
content.css('margin-right', marginRight);
});
}
jQuery( window ).resize(function() { resizeCTA(); });
jQuery(document).ready(function(){ resizeCTA(); });
Go Back