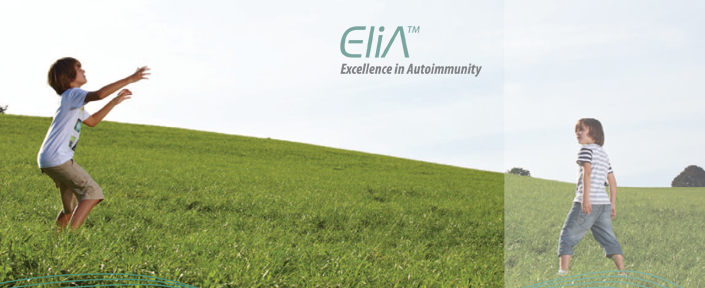 Phadia EliA for comprehensive autoimmune testing
Last updated: 24th November, 2020
Phadia EliA autoimmune tests offer a broad and expanding portfolio of tests with excellent clinical performance designed to aid in the diagnosis of a wide range of autoimmune diseases.
Why EliA?
Broadest portfolio of autoimmune assays on the market
High quality, high performance antigens for optimal balance of sensitivity and specificity
One calibration curve for multiple EliA tests methods
28 day calibration curve stability
Easily add any new tests to current curve
Phadia Prime software for ease of result, QC and instrument  management
Thermo Fisher develop and manufacture EliA antigens in their centre of excellence facility using the eukaryotic Sf9 expression system to produce recombinant antigens. The broad range of clinically relevant tests help healthcare providers make a better diagnosis and more informed treatment decisions.
---
Disease Group

EliA Tests

Calibration Curve

Connective tissue diseases

CTD screen and singles, DFS70, dsDNA

IgG

Coeliac disease

Celikey (tTG) IgA

Gliadin DP IgG

IgA

IgG

Inflammatory Bowel Disease

ASCA IgA

ASCA IgG

Calprotectin/2

IgA

IgG

Calprotectin/2

Vasculitis and Goodpasture's syndrome

MPOs-ANCA, PR3s-ANCA, GBM

IgG

Antiphospholipid syndrome

Cardiolipin, B2GP1

IgG, IgM, IgA

Pernicious anaemia

Intrinsic factor, Parietal cell

IgG

Thyroid diseases

TG and TPO

TSH-R Ab

IgG

anti-TSH-R

Rheumatoid arthritis

RF, CCP

IgG, IgM, IgA

Liver disease

M2, LKM-1 NEW!

IgG
---
---
The Phadia range of instruments: Phadia 200, Phadia 250, and Phadia 2500, allow for automation of autoimmune testing with an innovative and cost effective solution.
---

f
---
---
function resizeCTA(){
jQuery(".em_ctab__cta_main_container").each(function(){
var containerHeight = jQuery(this).outerHeight(); var containerWidth = jQuery(this).width();
var content = jQuery(this).find('.em_ctab__cta_content p'); var button = jQuery(this).find('.em_ctab__cta_button');
button.css('top', (containerHeight/2 - button.outerHeight()/2) );
var marginRight = button.outerWidth() + 25;
content.css('margin-right', marginRight);
});
}
jQuery( window ).resize(function() { resizeCTA(); });
jQuery(document).ready(function(){ resizeCTA(); });
Go Back