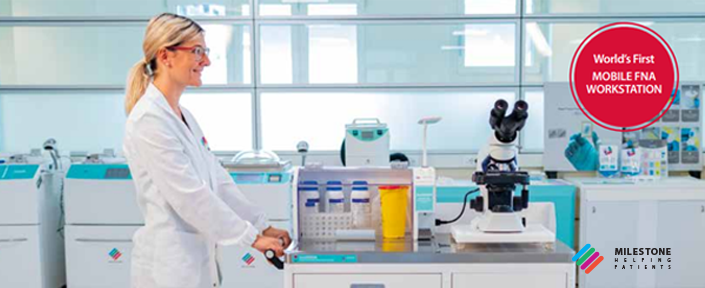 All-In-One Mobile Work Station for Rapid On-Site Evaluation (ROSE) of FNA Cytology
Last updated: 28th January, 2022
Products are for professional/laboratory use only.
The Milestone RoseSTATION is the first work station specifically developed for highly professional, standardised, ROSE procedures.
Rapid On-Site Evaluation (ROSE) is a service that the cytopathology laboratory provides for patients and their physicians. The advantages of immediate on-site evaluation include assurance of fine needle aspiration (FNA) biopsy adequacy,the ability to triage the specimen, shorten the length of the procedure, help guide and direct the biopsy in real time, and overall assist in managing the patient's procedure with the performing clinician at the point of care.
ROSE service for FNA biopsy is a time-limited procedure which occurs while patients are subject to varying degrees of sedation and while they have endoscopes or large needles placed within the cavity or abdomen. As such, it is important to collect and deliver images as quickly as possible in the highest quality.*
The challenge is that until now there has been no mobile dedicated unit/system to carry out ROSE on location. At time of call citology personel must assemble items that will be required and transport them to the on-site location with a mobile cart.
Developed from an original idea from Professor Mousa A. Al-Abbadi the RoseSTATION is Milestone solution to arriving rapidly on-site with a standardized work platform containing all tools required to accomplish this important diagnostic task.
The new Milestone RoseSTATION features:
All-in-one
All items needed are always available to the operator to assure rapid turnaround time.
Mobile
Always ready to go. Just disconnect power and drive to new location.
 
Self supporting
UPS power supply allows operation of lamp, forced air dryer and microscope for up to 40 minutes in case of lack of power on-site.
 
Setting up flexibility
The RoseSTATION is delivered without consumable items or reagents. Each laboratory can outfit the RoseSTATION with items required, according to their own standard operating procedure for ROSE.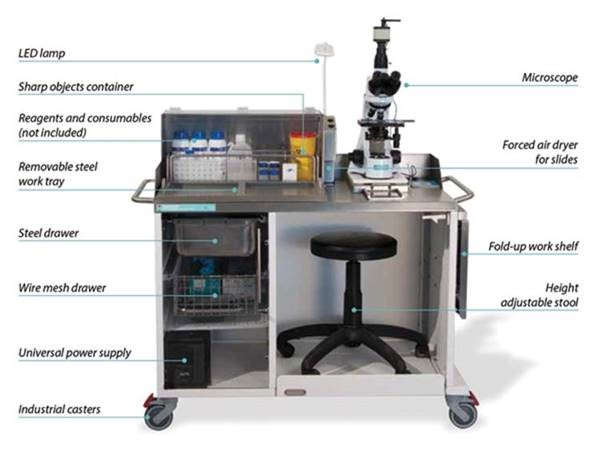 RoseSTATION Advantages:
All-in-one standardized, mobile workstation
All items required are always available on-site
Highly professional impact
Ergonomic work environment
On-board power supply
Mobile, can serve different locations
Functional even in locations without electrical power
Self-contained LED lamp for poorly lit environments
On-board routine microscope with die-cast frame
Built-in height adjustable stool
Removable steel work trays for rapid loading and cleaning
Steel support braket for waste disposal container
Fold-up work shelf for PC/Tablet
Ergonomic microscope set up
Wi-Fi camera (optional)
function resizeCTA(){
jQuery(".em_ctab__cta_main_container").each(function(){
var containerHeight = jQuery(this).outerHeight(); var containerWidth = jQuery(this).width();
var content = jQuery(this).find('.em_ctab__cta_content p'); var button = jQuery(this).find('.em_ctab__cta_button');
button.css('top', (containerHeight/2 - button.outerHeight()/2) );
var marginRight = button.outerWidth() + 25;
content.css('margin-right', marginRight);
});
}
jQuery( window ).resize(function() { resizeCTA(); });
jQuery(document).ready(function(){ resizeCTA(); });
Go Back