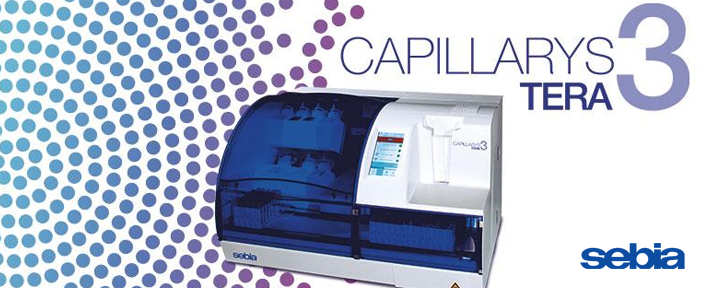 Sebia CAPILLARYS 3 HbA1c
Last updated: 03rd February, 2022
Products are for professional/laboratory use only.
Abacus dx offers laboratories the best equilibrium for HbA1c measurement between accuracy, robustness and throughput.
Sebia has adapted high-resolution capillary electrophoresis technology on its CAPILLARYS 3 TERA instrument for an accurate HbA1c measurement at a very high speed.
From whole blood sampling in primary capped tubes to the final result, the CAPILLARYS 3 TERA instrument performs all sequences automatically.
The clear-cut and precise separation of the different haemoglobin fractions allows accurate HbA1c measurement with no altered results in the presence of frequent interferences:
Labile A1c
Carbamylated Hb,
Hb F
Hb S
Hb C
Hb D
Hb E
As well as the incidental detection of the common haemoglobin disorders (sickle cell, beta-thalassemia, etc.).
---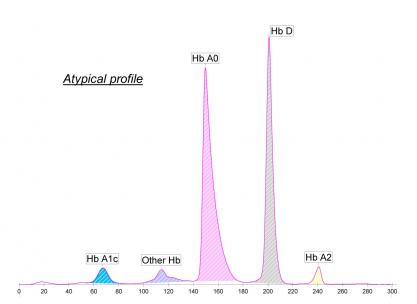 ---
Using the IFCC reference method calculation formula HbA1c/(HbA1c+HbA0), developed for the worldwide assay standardization, the Sebia methodology ensures accurate and reliable results.
Test Principle
The CAPI 3 HbA1c assay is based on the principle of capillary electrophoresis in free solution. Haemoglobin fractions are separated in silica capillaries, by their electrophoretic mobility and electroosmotic flow at a high voltage in an alkaline buffer. Haemoglobin fractions are directly detected at an absorbance of 415 nm.
Performances
Throughput: from 70 tests/h for CAPILLARYS 3 TERA stand alone to 210 tests/h with CAPILLARYS 3 TERA MC configuration
Between-run CVs: <2%
Full traceability and positive sample ID for blood samples
Full traceability and reagent management through RFID tags
Color-coded backlit reagent containers
Cap piercing and tube mixing from primary tubes
Rapid validation through color-coded profiles using the 96 profile mosaic screen
Large autonomy:
Samples up to 600 tubes (with tube loader)
>5 hours HbA1c testing
Capillarys 3 Automation
Complete walk-away technology
Capillarys 3 Octa
Capillarys 3 Tera
Capillarys 3 Tera MC1
Capillarys 3 Tera MC2
Capillarys 3 Tera MC3
Automatic red cell haemolysate preparation
High analytical precision
NGSP/IFCC certified results
---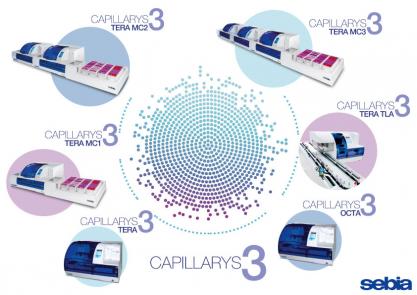 ---
PHORESIS CORE Software:
Interpretation and results validation
Multi-criteria search function; including patient result history
SQL Client/Server database

Networking of all Sebia Instruments

within a laboratory
between distant sites

Decentralised validation
---
---
Abacus dx is the exclusive distributor of Sebia in Australia only.
function resizeCTA(){
jQuery(".em_ctab__cta_main_container").each(function(){
var containerHeight = jQuery(this).outerHeight(); var containerWidth = jQuery(this).width();
var content = jQuery(this).find('.em_ctab__cta_content p'); var button = jQuery(this).find('.em_ctab__cta_button');
button.css('top', (containerHeight/2 - button.outerHeight()/2) );
var marginRight = button.outerWidth() + 25;
content.css('margin-right', marginRight);
});
}
jQuery( window ).resize(function() { resizeCTA(); });
jQuery(document).ready(function(){ resizeCTA(); });
Go Back