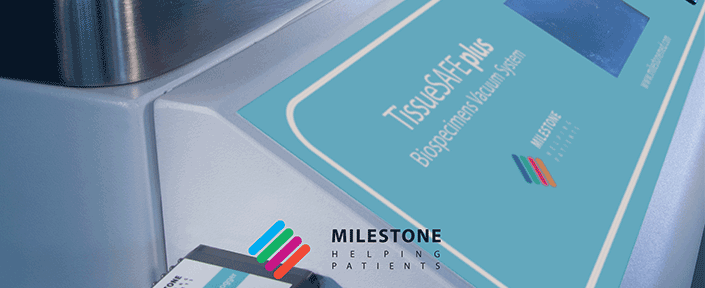 The all new TissueSAFE plus – the best is now better
Last updated: 20th August, 2018
TissueSAFE plus is an innovative patented vacuum system which ELIMINATES formalin in the operating theatre and allows a controlled formalin-free transfer of biospecimens to the laboratory.
Immediately after excision, specimens are transferred to an adjacent room where the TissueSAFE plus is installed. Tissue is placed into sterilized specimen bags and sealed under vacuum. "Fresh" specimen arrives and fixation procedures can now start under controlled conditions in the laboratory.
No formalin fumes

Specimens are held in 'as fresh' conditions

No spilling

Original specimen colours are preserved

Drying of tissues is eliminated
Click here to find out seven good reasons for choosing the TissueSAFE plus over an industrial vacuum system.
Click here to view the TissueSAFE plus brochure.
Click here to find out more about the Milestone TissueSAFE plus and the Milestone SealSAFE on Milestone's website.
Would you like to receive regular updates?  If so, please fill out the below form to subscribe to our Histology eNewsletter.
Histology Newsletter Sign Up Form
Go Back