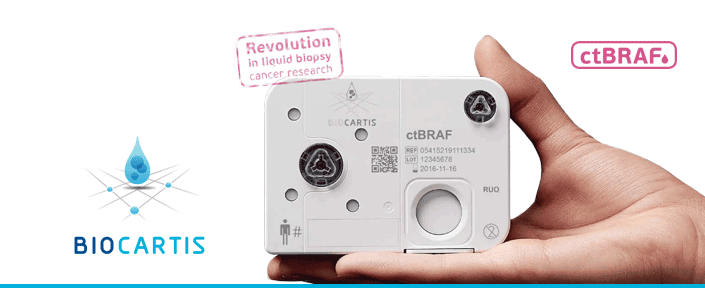 Idylla ctBRAF Mutation Assay (Research Use Only)
Last updated: 03rd February, 2022
Products are for professional/laboratory use only.
A revolution in liquid biopsy cancer research.
The Idylla™ ctBRAF Mutation Assay is the first and only fully automated liquid biopsy assay.
Discover the benefits of Idylla™ ctBRAF Assay – the easiest solution to implement liquid biopsy testing.
Directly from 1 ml plasma sample into the cartridge
Less than 1 minute hands-on time
Total turnaround time of around 100 minutes
Detection of all BRAF V600 mutations
Highly sensitive & standardized
Contamination-controlled design
The use of liquid biopsies has the potential to transform cancer diagnostics and extend the application from disease confirmation to patient monitoring and even early diagnosis.
Mutation detection
Detection of mutated ctDNA in plasma can complement, or even replace, in certain situations, tissue mutation detection.
Monitoring
Monitoring of treatment by means of ctDNA in plasma is a convenient way of regular testing of genetic changes, which is not practically feasible by means of solid biopsies. First, the rate of reduction of targeted mutations can be analysed and patients can be categorized in rapid and slow responders to treatment. Secondly, the emergence of the original targeted mutations and/or new upcoming resistance mutations can be monitored in responding patients. Finally, patients with complete responses can be further monitored for minimal residual disease
function resizeCTA(){
jQuery(".em_ctab__cta_main_container").each(function(){
var containerHeight = jQuery(this).outerHeight(); var containerWidth = jQuery(this).width();
var content = jQuery(this).find('.em_ctab__cta_content p'); var button = jQuery(this).find('.em_ctab__cta_button');
button.css('top', (containerHeight/2 - button.outerHeight()/2) );
var marginRight = button.outerWidth() + 25;
content.css('margin-right', marginRight);
});
}
jQuery( window ).resize(function() { resizeCTA(); });
jQuery(document).ready(function(){ resizeCTA(); });
Go Back