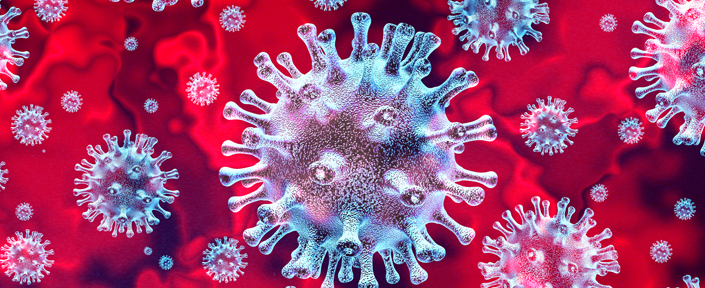 Tocilizumab and COVID-19
Last updated: 25th May, 2020
Products are for professional/laboratory use only.  With the evolution of  COVID-19, Theradiag is committed to providing the medical community with the necessary products to aid in the COVID-19 response.
Evidence is starting to emerge of a dysregulated immune response as key to disease severity with COVID-19.  A recent retrospective, multicenter study of 150 confirmed COVID-19 cases in Wuhan (China), elevated ferritin and IL-6 have been identified as predictors of fatality in this cohort, suggesting that mortality might be due to virally driven hyperinflammation1.
IL-6 is a key pro-inflammatory cytokine and an important mediator for fever and for acute phase response. Tocilizumab is a humanized anti-IL6 receptor antibody approved for the treatment of rheumatoid arthritis, juvenile idiopathic arthritis and giant cell arteritis. It is also licensed for the induction of the rapid reversal of cytokine release syndrome, a form of "cytokine storm" caused by CAR-T treatment. Tocilizumab prevents IL-6 from binding to soluble and cell associated IL-6 receptors, thus inhibiting the cascading signaling.
Tocilizumab appears to be a promising approach in the management of severe COVID-19 disease. Newly released interim recommendations highlight the fact that Tocilizumab should be considered in patients who have severe COVID-19 with suspected hyperinflammation2.
Evidences keep emerging for the use of Tocilizumab for the treatment of severe COVID-19 disease and every effort should be made to collect relevant clinical outcomes. Several clinical trials are ongoing or in preparations:
---
Theradiag is actively participating to this effort and have approached Roche and clinical trials investigators in order to assess the value of monitoring the level of circulating Tocilizumab among other clinical markers in COVID-19 patients treated by Tocilizumab.
References:
Ruan Q, Yang K, Wang W, Jiang L, Song J. Clinical predictors of mortality due to COVID-19 based on an analysis of data of 150 patients from Wuhan, China. Intensive Care Med [Internet]. 2020 Mar 3 [cited 2020 Mar 16]; Available from: http://www.ncbi.nlm.nih.gov/pubmed/32125452
Bergin C, Interim Recommendations for the use of Tocilizumab in the Management of Patients who have Severe COVID-19 with Suspected Hyperinflammation. https://www.hse.ie/eng/about/who/acute-hospitals-division/drugs-management-programme/interim-recommendations-for-the-use-of-tocilizumab-in-the-management-of-patients-with-severe-covid-19.pdf
function resizeCTA(){
jQuery(".em_ctab__cta_main_container").each(function(){
var containerHeight = jQuery(this).outerHeight(); var containerWidth = jQuery(this).width();
var content = jQuery(this).find('.em_ctab__cta_content p'); var button = jQuery(this).find('.em_ctab__cta_button');
button.css('top', (containerHeight/2 - button.outerHeight()/2) );
var marginRight = button.outerWidth() + 25;
content.css('margin-right', marginRight);
});
}
jQuery( window ).resize(function() { resizeCTA(); });
jQuery(document).ready(function(){ resizeCTA(); });
Go Back