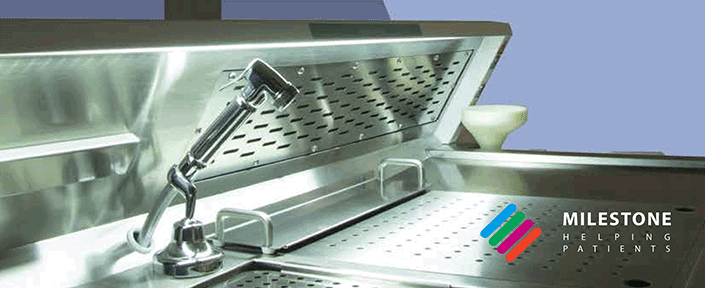 Introducing Milestone WorkSTATION & eGROSS
Last updated: 28th February, 2017
eGROSS – Ergonomic, mobile grossing work centre
This all-in-one grossing workstation has been specifically designed to integrate state of the art tools and standardization into a 21st century system for gross tissue dissection. It features enhanced process documentation, safety, flexibility and cost-effectiveness.
The eGROSS is the first to incorporate the digital power of specimen identification and dissection documentation, creating a standardized, image documenting, protocol. It can create a chain of custody that assures quality at the source of tissue selection and cassette generation from gross room throughout histology to the pathologist's desk.
The eGROSS captures digital documentation enabling innovative laboratories to pursue not only high quality but also work simplification and standardization in pursuit of the "virtual" and dictation-less lean laboratory operation.
In the eGROSS, every single technical detail has been studied and designed to obtain the best performance. The main focus has been the exhaust system which is essential to create the necessary air flow in the vented secure area to guarantee full protection for the operators.
The eGROSS working height is easily adjustable to accommodate standing or sitting. The unit can be positioned from its lowest setting of 90 cm (38.6") to the highest at 120 cm (47.2"), and anywhere in between.
Whenever the digital imaging features are not required, the eGROSS is available without the MacroPATH pro-x.
Click here for more information on the eGROSS

WorkSTATION – An innovative, ergonomic centre for macro digital documentation of small biopsies
In today's laboratory approximately 40-60% and in some instances up to 95% of specimens are endoscopic biopsies (prostate, gastro-intestinal).  Handling of these small specimens (3-20mm) takes place in large, bulky grossing stations designed for very large surgical samples.
The WorkSTATION Bx has been developed to fill this technology gap and to document this manual step for patient safety and QA purposes.  It dramatically reduces specimen turnaround time at the grossing station compared to conventional capture and shoot handheld systems.
The unit is ergonomic with easily adjustable working height to accommodate standing or sitting positions. Downdraft plus backdraft high power exhaust system is incorporated for safe operations. 
In addition to stand-alone operation, WorkSTATION Bx can interface with a PACS or LIS through coded solution or TWAIN mode.
Whenever the digital imaging features are not required, the WorkSTATION 140 is available without the digital camera.
WorkSTATION unique features
ERGONOMIC    
LONG LIFE OPERATION 
HIGH SAFETY STANDARDS
FULL DOCUMENTATION
EASY OPERATION
Click here for more information on the WorkSTATION 120
Click here for more information on the WorkSTATION 140
Would you like to receive regular news and updates from all of our suppliers?  If so, please fill out the below form to sign up for our Histology Newsletter.
Go Back