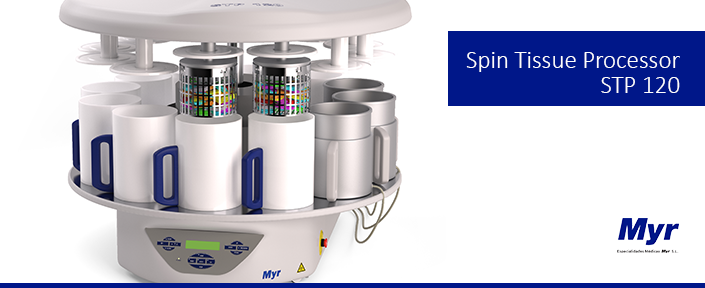 Myr Spin Tissue Processor STP 120
Last updated: 02nd February, 2022
Products are for professional/laboratory use only.
With more than 2,500 units installed around the world STP 120 confirms its leading position.
STP 120 uses a patented technique that combines rotational agitation, shaking and centrifuging in order to achieve excellent infiltration results. This is possible thanks to the world's best spin processing method.
3 versions have been developed: STP-120-1, STP-120-2 and STP-120-3. Both STP-120-2 and STP-120-3 incorporate a fume extraction system with charcoal filter that cleanses the vapours before being discharged into the air.
The systems have battery back-up in case of power failure to avoid potential dry up of tissues. In case of power failure basket will be immersed in vessel.
Key features:
Rotational agitation:

The basket turns horizontally at 60 rpm and changes the rotational direction every 60 seconds. The rotational agitation achieves a perfect infiltration of tissue, a homogeneous mixture of the reagents and a reduction of processing time.
Shaking:

This feature can be optionally activated and allows the basket to perform an up-down movement inside the vessel that combined with the rotational agitation creates a helicoidal movement that increases infiltration quality.
Centrifuging:

The rotation of cassette basket at 120 rpm for a period of 60-180 seconds (inside the reagent vessel but over the reagent level) changes direction every 15 seconds to minimize carry-over of reagents and allowing tissue to be optimally drained.
---
function resizeCTA(){
jQuery(".em_ctab__cta_main_container").each(function(){
var containerHeight = jQuery(this).outerHeight(); var containerWidth = jQuery(this).width();
var content = jQuery(this).find('.em_ctab__cta_content p'); var button = jQuery(this).find('.em_ctab__cta_button');
button.css('top', (containerHeight/2 - button.outerHeight()/2) );
var marginRight = button.outerWidth() + 25;
content.css('margin-right', marginRight);
});
}
jQuery( window ).resize(function() { resizeCTA(); });
jQuery(document).ready(function(){ resizeCTA(); });
Go Back