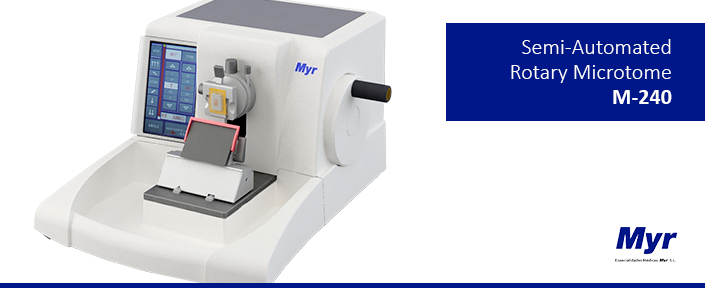 Myr Semi-Automated Rotary Microtome M-240
Last updated: 02nd February, 2022
Products are for professional/laboratory use only.
The M-240 is a semi-automated rotary microtome for consistent and fine high-quality sectioning. The M-240 microtome from Myr uses state-of-the-art technology in the sectioning field and embodies the company´s commitment to quality and excellence in the microtomy.
Equipped with the largest touchscreen in the market to enhance user-friendliness and ergonomics, Myr's M-240 semi-automated rotary microtome provides the operational convenience and the stability required for outstanding sectioning in routine, research and industry applications.
Specifications: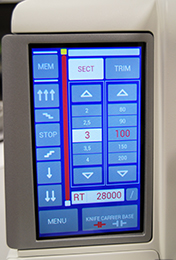 User interface available in a full-color TFT 7" display with PCAD (projected capacitive) touchscreen. The size of the display together with its tilted position allows an easy and effortless selection of the parameters and increases user safety. The integrated ergonomic armrest at the back of the display improves user comfort and productivity.
Button Memory function (MEM) for the retrieval of previous cutting settings.
---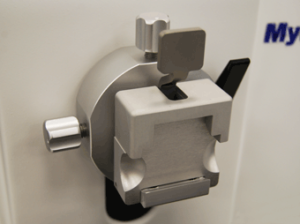 Equipped with a specimen orientation head that works with different specimen clamp types and an easy-to-operate change system thanks to the locking mechanism.
Indication of 0-position in x and y direction by clear "click" for the precise position of the specimen.
Cutting-edge design of the specimen clamp that prevents the building up of dirt and facilitates operations with the microtome.
---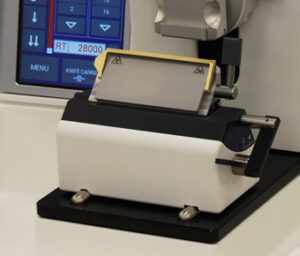 Automatic fixation of the knife carrier to the microtome base (patent pending).
Removable lever for locking the clearance angle of the blade holder. Design without levers for improved cleanliness and ease of use.
Blade holder can be moved sideways both to the right and the left for optimal use of the cutting edge.
---
Smooth-working handwheel to minimize muscle strain. The handwheel can be locked in any angular position.
Big capacity and easy to mount waste tray. Special antistatic coating preventing paraffin adhesion and minimizing cleaning time.
Ergonomic design that includes a surface for armrests.
---
function resizeCTA(){
jQuery(".em_ctab__cta_main_container").each(function(){
var containerHeight = jQuery(this).outerHeight(); var containerWidth = jQuery(this).width();
var content = jQuery(this).find('.em_ctab__cta_content p'); var button = jQuery(this).find('.em_ctab__cta_button');
button.css('top', (containerHeight/2 - button.outerHeight()/2) );
var marginRight = button.outerWidth() + 25;
content.css('margin-right', marginRight);
});
}
jQuery( window ).resize(function() { resizeCTA(); });
jQuery(document).ready(function(){ resizeCTA(); });
Go Back