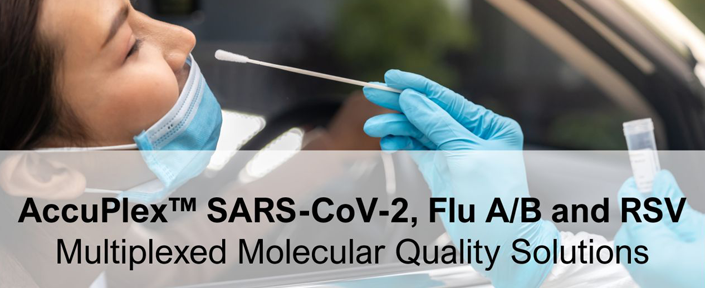 Molecular QC for SARS CoV2 + Flu + RSV
Last updated: 03rd November, 2020
Products are for professional/laboratory use only.
AccuPlex™ Reference Material Kits are designed to measure day-to-day performance of the assay, providing both a positive and a negative reference solution.
Product Description

Material Numbers

Pack Size

Concentration

AccuPlex SARS-CoV-2,
Flu A/B and RSV Reference Material Kit

0505-0174

Positive 5 x 1.5 mL

Negative 5 x 1.5 mL

5,000 copies/mL
5,000 copies/mL (RNase P)

AccuPlex Flu A/B and RSV Reference Material Kit

0515-0001
Not for In Vitro diagnostic use. Research Use Only.

---
AccuPlex™ Verification Panels are optimized for assay verification at installation by documenting test performance along the assay's range, enabling laboratories to establish lower limits of detection, perform assay comparisons, and evaluate staff proficiency.
Product Description

Material Numbers

Pack Size

Concentration

AccuPlex SARS-CoV-2,
Flu A/B and RSV Verification Panel

0505-0183

Positive 1
Positive 2
Positive 3
Negative

1 x 3 mL
1 x 3 mL
1 x 3 mL
1 x 3 mL

100,000 copies/mL
10,000 copies/mL
1,000 copies/mL
5,000 copies/mL (RNase P)

AccuPlex Flu A/B and RSV Verification Panel
Not for In Vitro Diagnostic Use. Research Use Only
---
Regions included in AccuPlex SARS-CoV-2, Flu A/B and RSV Positive Reference Material:
Virus

Genbank Accession #

Regions Included

Influenza A

KU933490 – KU933497

Full Genome

Influenza B

CY236601.1 – CY236608.1

Full Genome

RSV

NC_001803

1..4380;
8460..15191

SARS-CoV-2

NC_045512.2

Full Genome
---
function resizeCTA(){
jQuery(".em_ctab__cta_main_container").each(function(){
var containerHeight = jQuery(this).outerHeight(); var containerWidth = jQuery(this).width();
var content = jQuery(this).find('.em_ctab__cta_content p'); var button = jQuery(this).find('.em_ctab__cta_button');
button.css('top', (containerHeight/2 - button.outerHeight()/2) );
var marginRight = button.outerWidth() + 25;
content.css('margin-right', marginRight);
});
}
jQuery( window ).resize(function() { resizeCTA(); });
jQuery(document).ready(function(){ resizeCTA(); });
Go Back