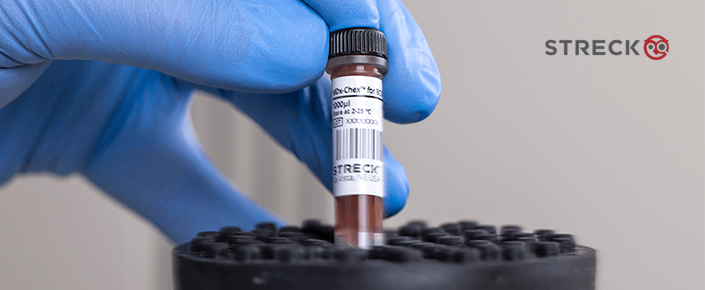 MDx-Chex for BCID2 – Quality Control for Sepsis Tests
Last updated: 12th January, 2022
Products are for professional/laboratory use only.
Streck has developed MDx-Chex™ for BCID2, a full-process quality control for sepsis tests.
The product contains 33 microorganisms and 10 resistance genes associated with sepsis and can be used for verification and monitoring of lot-to-lot performance of sepsis tests. MDx-Chex for BCID2 is For Research Use only. Not for use in diagnostic procedures.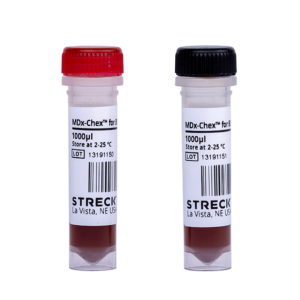 MDx-Chex for BCID2 contains all the intact microorganisms (inactivated) and resistance gene markers that the assay tests for. Comprised of a matrix of stabilized RBCs, WBCs and blood culture media components, it is packaged in a two-vial system  ̶  a Gram (-) vial and a Gram (+) plus yeasts vial.
MDx-Chex for BCID2 is the most patient-like formulation available for sepsis tests and will verify the entire analytical process: cell lysis, DNA extraction and purification, qPCR and analysis. No other commercial option is as complete, with coverage and verification of all 43 targets using only two BCID2 pouches.
Features 
Comprised of inactivated microorganisms in a matrix of blood cells and culture media components to simulate a patient sample.
Two sample-to-result tests needed for complete coverage of all 43 targets,  which are contained in two vials.
Allows for direct use on the sample-to-result test platform.
Benefits
Challenges and verifies the entire analytical process of MDx-based sepsis assays:
Cell lysis
DNA extraction/purification
PCR inhibition
Detection analysis
Results reporting
Saves the use of expensive sample-to-result cartridges:
Use 2 cartridges vs. 6 cartridges.
Provides complete target coverage.
Easy to use:
Pipette like a patient sample from a blood culture bottle.
No pooling of individual microorganisms needed.
function resizeCTA(){
jQuery(".em_ctab__cta_main_container").each(function(){
var containerHeight = jQuery(this).outerHeight(); var containerWidth = jQuery(this).width();
var content = jQuery(this).find('.em_ctab__cta_content p'); var button = jQuery(this).find('.em_ctab__cta_button');
button.css('top', (containerHeight/2 - button.outerHeight()/2) );
var marginRight = button.outerWidth() + 25;
content.css('margin-right', marginRight);
});
}
jQuery( window ).resize(function() { resizeCTA(); });
jQuery(document).ready(function(){ resizeCTA(); });
Go Back