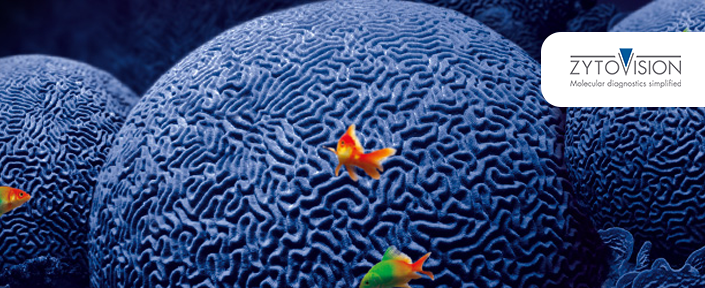 Detect NTRK gene fusion status with FISH
Last updated: 04th January, 2023
Products are for professional/laboratory use only.
Use Zytovision FISH probes to detect gene fusion status in NTRK1/2/3 genes.
The ZytoLight Dual Color Break Apart Probes are to be used for the qualitative detection of translocations involving the human NTRK1, NTRK2, and NTRK3 genes in formalin-fixed, paraffin-embedded specimens by fluorescence in situ hybridization (FISH). The probes are intended to be used as an aid to the differential diagnosis of various cancers.
| | |
| --- | --- |
| Item Number | Item Description |
| ZYZ216750 | ZytoLight SPEC NTRK1 Dual Color Break Apart probe 0.05ml |
| ZYZ2167200 | ZytoLight SPEC NTRK1 Dual Color Break Apart Probe 0.2 ml |
| ZYZ220550 | ZytoLight SPEC NTRK2 Dual Color Break Apart probe 0.05ml |
| ZYZ2205200 | ZytoLight SPEC NTRK2 Dual Color Break Apart Probe 0.2ml |
| ZYZ220650 | ZytoLight SPEC NTRK3 Dual Color Break Apart probe 0.05ml |
| ZYZ2206200 | ZytoLight SPEC NTRK3 Dual Color Break Apart Probe 0.2ml |
---
ZytoLight® SPEC NTRK1 Dual Color Break Apart Probe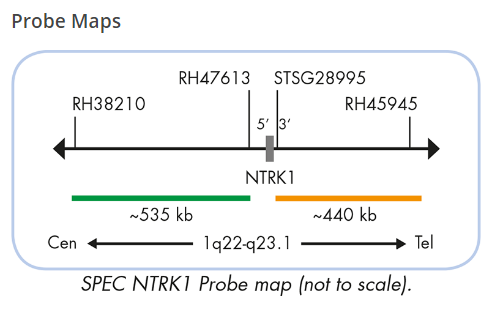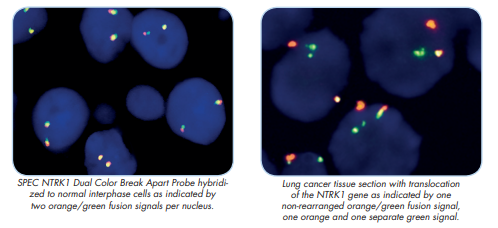 ---
ZytoLight® SPEC NTRK2 Dual Color Break Apart Probe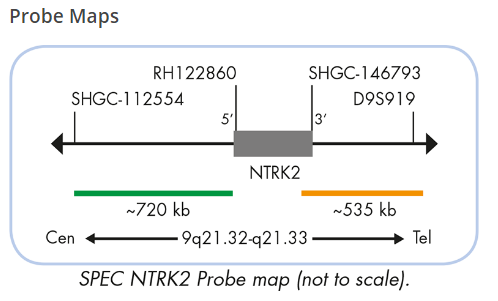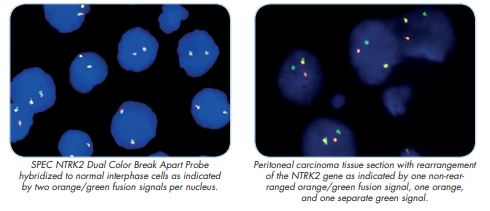 ---
ZytoLight® SPEC NTRK3 Dual Color Break Apart Probe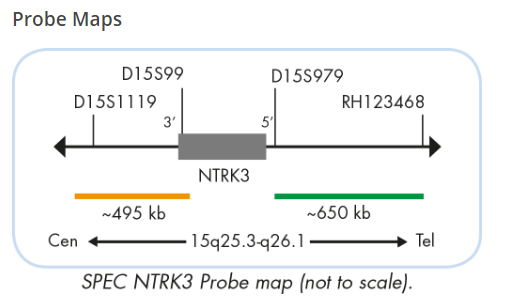 ---
function resizeCTA(){
jQuery(".em_ctab__cta_main_container").each(function(){
var containerHeight = jQuery(this).outerHeight(); var containerWidth = jQuery(this).width();
var content = jQuery(this).find('.em_ctab__cta_content p'); var button = jQuery(this).find('.em_ctab__cta_button');
button.css('top', (containerHeight/2 - button.outerHeight()/2) );
var marginRight = button.outerWidth() + 25;
content.css('margin-right', marginRight);
});
}
jQuery( window ).resize(function() { resizeCTA(); });
jQuery(document).ready(function(){ resizeCTA(); });
Go Back