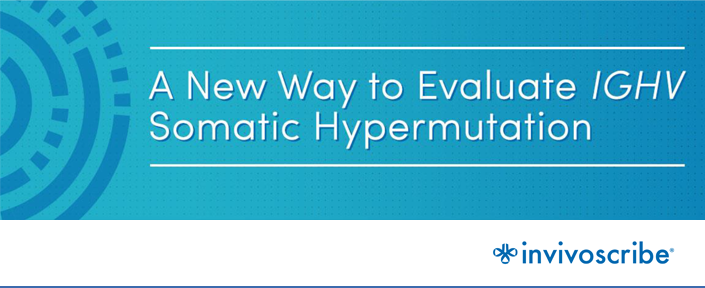 Invivoscribe's NGS Assay for determining Somatic Hypermutation status in patients with chronic lymphocytic leukemia (CLL).
Last updated: 22nd January, 2021
Products are for professional/laboratory use only.
The immunoglobulin heavy-chain variable region gene (IgHV) mutational status is considered the gold standard for prognosis in chronic lymphocytic leukemia (CLL)1. The presence of IGHV somatic hypermutation (SHM) is defined as greater or equal to 2% difference from the germline VH gene sequence, whereas less than 2% difference is considered evidence of no somatic hypermutation. The status of somatic hypermutation for clone(s) has clinical relevance for B-CLL, as there is a clear distinction in the median survival of patients with and without somatic hypermutation. Hypermutation of the IGHV region is strongly predictive of a good prognosis while lack of mutation predicts a poor prognosis (Ghia P. et al., 2007).
The LymphoTrack Dx IGHV Leader Somatic Hypermutation Assay – MiSeq® represents a significant improvement over existing clonality assays using fragment analysis, as it efficiently detects the majority of IGH gene rearrangements using a single multiplex master mix, and identifies the DNA sequence specific for each clonal gene rearrangement. Therefore, this product has three important and complementary uses: it aids in the detection of initial clonal populations, identifies sequence information required to track those clones in subsequent samples, and provides detailed sequence information required to calculate the degree of SHM.
The associated LymphoTrack Dx Software – MiSeq® provides direct interpretation of the data generated from LymphoTrack Dx Assays via a simple and streamlined method of analysis and visualisation of data. By following the guidelines provided, the sample results summarised in the software can be easily interpreted for the presence or absence of clonality and somatic hypermutation.
The LymphoTrack Dx IGHV Leader Somatic Hypermutation Assay is available for use on the Illumina MiSeq and is a available in two kit sizes; 8 indices or 24 indices. Each kit contains ready-to-use indexed amplification master mixes, positive and negative controls for clonality and a somatic hypermutation positive control. This kit is available as IVD, ARTG 255352.
---
Ordering Information:
Product Code

Description

Size

IV91210059

LymphoTrack Dx IGHV SHM
Assay Kit A – MiSeq

8 indices (5 sequencing reactions each)

IV91210069

LymphoTrack Dx IGHV SHM
Assay Panel – MiSeq

24 indices (5 sequencing reactions each)
---
---
Reference:
 Stamatopoulos, B., Timbs, A., Bruce, D. et al. Targeted deep sequencing reveals clinically relevant subclonal IgHV rearrangements in chronic lymphocytic leukemia. Leukemia 31,837–845 (2017). https://doi.org/10.1038/leu.2016.307
---
function resizeCTA(){
jQuery(".em_ctab__cta_main_container").each(function(){
var containerHeight = jQuery(this).outerHeight(); var containerWidth = jQuery(this).width();
var content = jQuery(this).find('.em_ctab__cta_content p'); var button = jQuery(this).find('.em_ctab__cta_button');
button.css('top', (containerHeight/2 - button.outerHeight()/2) );
var marginRight = button.outerWidth() + 25;
content.css('margin-right', marginRight);
});
}
jQuery( window ).resize(function() { resizeCTA(); });
jQuery(document).ready(function(){ resizeCTA(); });
Go Back