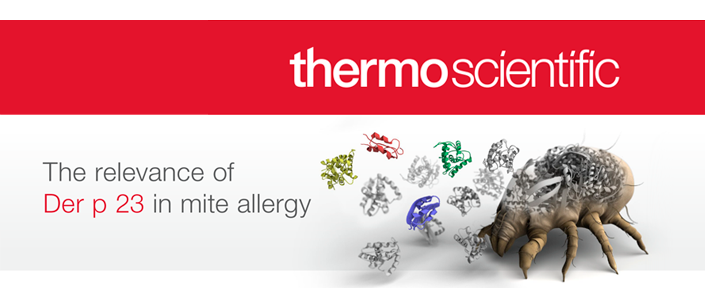 Launch of ImmunoCAP house dust mite component rDer p 23
Last updated: 25th October, 2017
Allergy to house dust mites (HDM) is a main cause of respiratory allergies, and exposure to HDM is a major trigger of asthma exacerbations. Treatment strategies for HDM-induced rhinitis and asthma include medication and allergen avoidance and in certain cases allergen specific immunotherapy (AIT).
Dermatophagoides pteronyssinus and Dermatophagoides farinae are the most common HDM species in temperate zone, both containing the two major allergens – group 1 and 2 proteins, from mite bodies and feces, respectively. Together Der p 1 and Der p 2 will identify between 63 and 97% of patients sensitized to D. pteronyssinus extracts, as shown in studies from Europe, North America and Japan. Thus, a significant proportion of house dust mite sensitized patients may be missed by the use of only group 1 and group 2 allergens in the diagnostic work up.
To date, eighteen allergens in addition to Der p 1 and Der p 2 from D. pteronyssinus are registerd in the WHO/IUIS database.
---
Of these, Der p 23 appears to be of particular high clinical relevance, as demonstrated by recent studies.
Therefore, we are happy to announce the release of new ImmunoCAP Allergen d209, Allergen component rDer p 23, House dust mite which could complement your test panel.
References
Calderon MA, Kleine-Tebbe J, Linneberg A, De Blay F, Hernandez Fernandez de Rojas D, Virchow JC, et al. House Dust Mite Respiratory Allergy: An Overview of Current Therapeutic Strategies. The journal of allergy and clinical immunology In practice. 2015;3(6):843-55.
Nolte H, Plunkett G, Grosch K, Larsen JN, Lund K, Bollen M. Major allergen content consistency of SQ house dust mite sublingual immunotherapy tablets and relevance across geographic regions. Annals of allergy, asthma & immunology: official publication of the American College of Allergy, Asthma, & Immunology. 2016;117(3):298-303.
Go Back