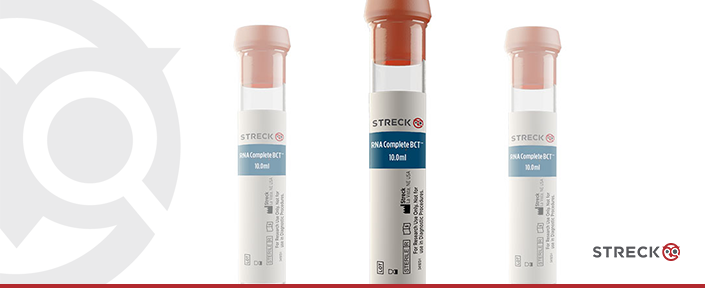 Streck launches new blood collection tube
Last updated: 02nd February, 2022
Products are for professional/laboratory use only.
Abacus dx is pleased to announce the newest addition to Streck's trusted blood collection tube portfolio, RNA Complete BCT™.
The new blood collection tube maintains draw time cell-free RNA concentration while limiting the release of extracellular vesicles, such as exosomes, from blood cells. RNA Complete BCT™ maintains these important analytical targets for up to seven days when stored at room temperature, allowing convenient sample collection, transport, and storage.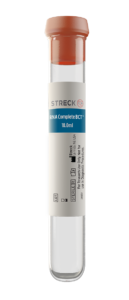 Features of RNA Complete BCT™:
Seven day sample stability when stored at room temperature
Isolated cfRNA is suitable for downstream applications, including ddPCR and NGS
Compatible with commercially available total plasma nucleic acid isolation kits
Isolated extracellular vesicles are suitable for downstream applications including NTA or indirect analysis or EV-associated cargo
Compatible with standard low input RNA library prep kits
For Research Use Only
---
function resizeCTA(){
jQuery(".em_ctab__cta_main_container").each(function(){
var containerHeight = jQuery(this).outerHeight(); var containerWidth = jQuery(this).width();
var content = jQuery(this).find('.em_ctab__cta_content p'); var button = jQuery(this).find('.em_ctab__cta_button');
button.css('top', (containerHeight/2 - button.outerHeight()/2) );
var marginRight = button.outerWidth() + 25;
content.css('margin-right', marginRight);
});
}
jQuery( window ).resize(function() { resizeCTA(); });
jQuery(document).ready(function(){ resizeCTA(); });
Go Back