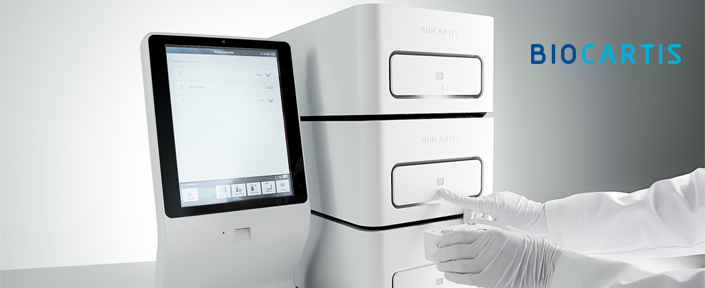 Study Reviewing 2,500 Performed Idylla Tests Shows Generation of Valid Results in 98.1% of Cases and Outperformance over Reference Methods
Last updated: 03rd February, 2022
Products are for professional/laboratory use only.
Press Release:  Mechelen, Belgium, 27 June 2018
Biocartis Group NV (the 'Company' or 'Biocartis'), an innovative molecular diagnostics company (Euronext Brussels: BCART), today announces the recent publication of a study that reviewed the results of 18 performance studies1 of Biocartis' fully automated molecular diagnostic platform Idylla™. Results showed a strong performance of Idylla™ compared to reference methods driven by a significantly lower invalid rate for Idylla™ tests and an overall high concordance in test results.
The performance review study was performed by Dr. Arnaud Uguen (MD, PhD, Department of Pathology of the Brest University Hospital, Brest, France) and Dr. Giancarlo Troncone (MD, PhD, Professor of Anatomic Pathology, University of Naples Federico II, Naples, Italy) and was published in the Journal of Clinical Pathology. It concerns a review of 18 original papers comparing the performance of the Idylla™ platform to other oncology molecular diagnostic methods commonly used in clinical practice today to determine biomarker status (BRAF, NRAS, KRAS and EGFR mutations) that drive frequently occurring cancers (i.e. melanoma, colorectal, lung, thyroid and pancreatic cancer2). The reviewed studies included 2,482 Idylla™ tests that were performed on tumor samples from 2,343 patients. For 2,378 samples, Idylla™ and reference method paired results were available for comparison.
Results showed that out of the nearly 2,500 Idylla™ tests, 98.1% of the tests generated a valid result. The 1.9% invalid results generated with Idylla™ is approx. 40% lower than the included reference methods, which showed invalid results in 3.1% of the cases. Furthermore, the study showed an excellent concordance rate of 94.8% between Idylla™ and the reference methods. Further testing of the discordant cases (5.2%) with a third method confirmed the Idylla™ result in more than half of the cases (54.8%).
Dr. Arnaud Uguen, MD PhD, Department of Pathology of the Brest University Hospital, Brest, France, commented: "Data generated by the studies listed in our review demonstrate the high accuracy of the Idylla™ platform to test for actionable BRAF, NRAS, KRAS and EGFR mutations in different cancers, underlining the cost-effectiveness of Idylla™ testing compared to other molecular methods. Being rapid and easy to use, the Idylla™ platform can be used as a first-line diagnostic tool to reduce turnaround time, while a second-line more comprehensive Next Generation Sequencing (NGS) analysis can be carried out to provide additional information for the future management of patients."
---
function resizeCTA(){
jQuery(".em_ctab__cta_main_container").each(function(){
var containerHeight = jQuery(this).outerHeight(); var containerWidth = jQuery(this).width();
var content = jQuery(this).find('.em_ctab__cta_content p'); var button = jQuery(this).find('.em_ctab__cta_button');
button.css('top', (containerHeight/2 - button.outerHeight()/2) );
var marginRight = button.outerWidth() + 25;
content.css('margin-right', marginRight);
});
}
jQuery( window ).resize(function() { resizeCTA(); });
jQuery(document).ready(function(){ resizeCTA(); });
Go Back