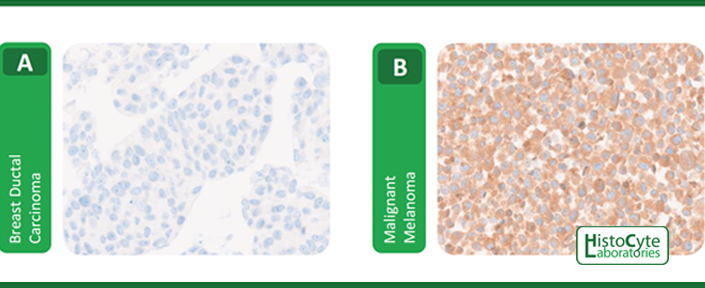 Histocyte BRAF Analyte Control IHC
Last updated: 26th July, 2023
Products are for professional/laboratory use only.
BRAF analyte control from HistoCyte, two cell lines of positive & negative BRAF V600E expression.
BRAF V600E mutations have been found in several types of cancers such as melanoma, papillary thyroid carcinoma and colorectal adenocarcinoma with a frequency of approximately 60%, 40% and 12% respectively1. Additionally, studies have shown that the prevalence of BRAF mutation in lung carcinoma is approximately 2-4%2.

Immunohistochemistry (IHC) assessment of BRAF V600E has been limited due to the high antibody cost and availability of reliable antibody clones. Using HistoCyte BRAF analyte controls can take the stress away, by providing accurate control tissue for all your assay needs.
Invest in high quality cell line controls to ensure definitive patient results.
Available formats:

Research Use Only.
---
References:
Cancers (Basel). 2019; 11(9): 1262.
Trans. Lung Cancer Res. 2019; 8(3): 258-267.
function resizeCTA(){
jQuery(".em_ctab__cta_main_container").each(function(){
var containerHeight = jQuery(this).outerHeight(); var containerWidth = jQuery(this).width();
var content = jQuery(this).find('.em_ctab__cta_content p'); var button = jQuery(this).find('.em_ctab__cta_button');
button.css('top', (containerHeight/2 - button.outerHeight()/2) );
var marginRight = button.outerWidth() + 25;
content.css('margin-right', marginRight);
});
}
jQuery( window ).resize(function() { resizeCTA(); });
jQuery(document).ready(function(){ resizeCTA(); });
Go Back