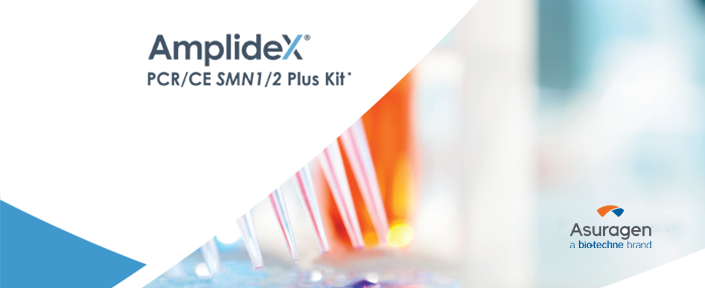 Asuragen Launches SMN1/2 Plus Kit
Last updated: 25th January, 2022
Products are for professional/laboratory use only.  Abacus dx is pleased to announce the launch of the latest assay from the Asuragen spinal muscular atrophy (SMA) portfolio – AmplideX® PCR/CE SMN1/2 Plus Kit*.
SMA is an autosomal recessive disorder caused by loss of functional SMN1 found on chromosome 5. Affected individuals most commonly inherit two faulty SMN1 genes (copy number = 0), one from each parent. SMN2 can compensate for defective SMN1 therefore it is important to quantify both SMN1 and SMN2 copy number.
The latest assay from Asuragen quantifies SMN1 and SMN2 exon 7 copy number and also detects SMN1 gene duplication ("silent carrier") and SMN2 disease modifier variants – all in a single reaction.
SMN1 and SMN2 copy number, silent carrier and disease modifier genotyping – in less than 4 hours
Reduced Complexity
Similar workflow to AmplideX® PCR/CE FMR1 Kit for easier implementation and training
Multiplexed, scalable design allows analysis of single-nucleotide variants, small indels and copy number changes from a single PCR reaction
Assay-specific software automates variant calls and simplifies data analysis
Optimised Workflow
DNA-to-data in less than 4 hours
Fully-kitted solution
Quality Performance
Ability to differentiate between 0, 1, 2, 3, and ≥4 copies for both SMN1 and SMN2
Automated variant and copy number genotyping
* Research Use Only. IVD-use kit coming soon
function resizeCTA(){
jQuery(".em_ctab__cta_main_container").each(function(){
var containerHeight = jQuery(this).outerHeight(); var containerWidth = jQuery(this).width();
var content = jQuery(this).find('.em_ctab__cta_content p'); var button = jQuery(this).find('.em_ctab__cta_button');
button.css('top', (containerHeight/2 - button.outerHeight()/2) );
var marginRight = button.outerWidth() + 25;
content.css('margin-right', marginRight);
});
}
jQuery( window ).resize(function() { resizeCTA(); });
jQuery(document).ready(function(){ resizeCTA(); });
Go Back