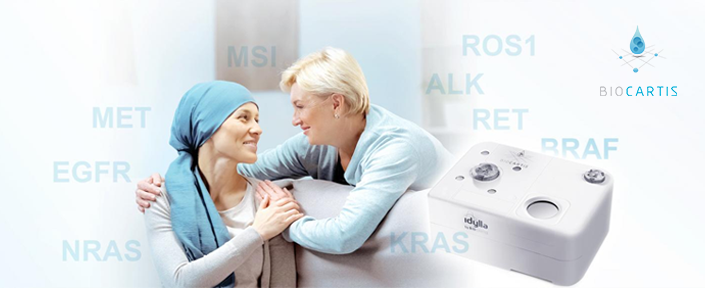 Biocartis Announces Nine Idylla™ Studies Published at AMP 2022 Annual Meeting
Last updated: 19th January, 2023
Products are for professional/laboratory use only.
Among the studies published, four studies on the Idylla™ GeneFusion Assay highlighted the strengths of Idylla™ testing including high accuracy, ease-of-use and rapid time-to-results.
Furthermore, one study performed with the new SeptiCyte RAPID® EDTA blood-compatible cartridges4 on the Idylla™ platform, developed in collaboration with Immunexpress, concluded that the addition of the widely used EDTA blood tube as a validated sample type has the potential to greatly enhance the clinical utility of this new near-patient sepsis diagnostic.
The other studies related to the use of the Idylla™ EGFR Assay, the Idylla™ MSI Assay, and the Idylla™ NRAS-BRAF Assay. 
These studies highlight the benefit of Idylla™ testing versus more complex and time-consuming technologies. With Idylla™, the time-to-result of diagnostic testing is decreased, indicating the suitability of Idylla™ testing for rapid molecular testing.
| | | |
| --- | --- | --- |
| Page | Abstract ID | Title |
| 53 | ID007 | Multi-Site Validation of EDTA Blood as a Sample Type for SeptiCyte RAPID CE-IVD, a Near-Patient Diagnostic Test for Sepsis on the Biocartis Idylla System |
| 79 | I012 | Evaluation of RET Fusion Identification by the Idylla GeneFusion Assay |
| 90 | ST006 | Clinical Validation of an Automated Gene Fusion Assay for Non-Small Cell Lung Carcinoma |
| 90 | ST008 | Development and Validation of an Ultra-Rapid Assay for Detection of NTRK1/2/3 Fusions |
| 92 | ST013 | Validation of Idylla EGFR Assay for Rapid Detection of EGFR Mutations in Patients' FFPE Tissues |
| 94 | ST016 | Performance of MSI Testing by the Automated Rapid Idylla Assay in Comparison with the Promega Assay in MMR-Deficient Endometrial Carcinomas |
| 95 | ST019 | BioCartis Idylla Testing for EGFR Mutations in Lung Adenocarcinoma Reveals Low Clinical Sensitivity for Detecting Exon 20 Insertion Alterations |
| 100 | ST034 | Rapid Assessment of Kinase Gene Fusions Using the Idylla GeneFusion Assay in Lung Adenocarcinoma |
| 103 | ST041 | Idylla BRAF and NRAS |
Check regulatory status in your country
function resizeCTA(){
jQuery(".em_ctab__cta_main_container").each(function(){
var containerHeight = jQuery(this).outerHeight(); var containerWidth = jQuery(this).width();
var content = jQuery(this).find('.em_ctab__cta_content p'); var button = jQuery(this).find('.em_ctab__cta_button');
button.css('top', (containerHeight/2 - button.outerHeight()/2) );
var marginRight = button.outerWidth() + 25;
content.css('margin-right', marginRight);
});
}
jQuery( window ).resize(function() { resizeCTA(); });
jQuery(document).ready(function(){ resizeCTA(); });
Go Back