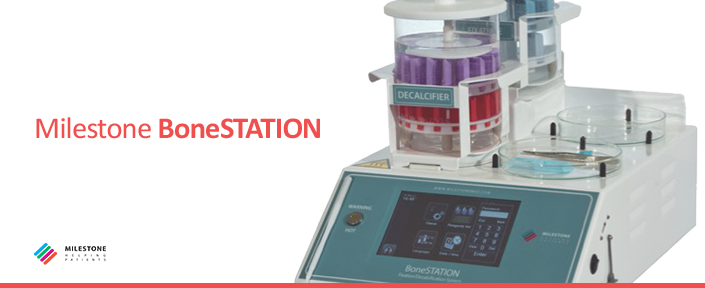 Milestone BoneSTATION – Good results from good preparation
Last updated: 02nd February, 2022
Products are for professional/laboratory use only.
Often limited attention is given to bone fixation and decalcification and bone samples are, at times, abandoned in a jar and immersed in a decalcification solution of unknown composition. Samples are then left in the solution until thought to be decalcified.
Bones which are treated in this way can have poor morphology and the genetic material can be of poor quality for downstream molecular testing such as NGS.
Using the Milestone BoneSTATION, the histology laboratory can tailor the fixation and decalcification process to the specific characteristics of their bone tissue specimens to improve diagnostic quality and consistency of results.
Efficient decalcification leads to better tissue processing and more reliable IHC with:
Optimised molecular results
Automatic standardised process
Rapid turnaround time
High process flexibility
Full documentation
The BoneSTATION can be used with any type of fixative or decalcifier, even strong mineral acids, as all contact surfaces are either glass or PTFE polymer. While mineral acids offer a faster decal rate, processed specimens are not optimal for molecular specimens. For this reason, Milestone prefers the use of either formic acid or EDTA as "soft decalcifiers".
For optimised molecular biology results use MOL-Decal 10; an enhanced decalcifying solution of 10% EDTA by a proprietary mixture of EDTA salts. The images below show the results of using the BoneSTATION with MOL-Decal.

---
function resizeCTA(){
jQuery(".em_ctab__cta_main_container").each(function(){
var containerHeight = jQuery(this).outerHeight(); var containerWidth = jQuery(this).width();
var content = jQuery(this).find('.em_ctab__cta_content p'); var button = jQuery(this).find('.em_ctab__cta_button');
button.css('top', (containerHeight/2 - button.outerHeight()/2) );
var marginRight = button.outerWidth() + 25;
content.css('margin-right', marginRight);
});
}
jQuery( window ).resize(function() { resizeCTA(); });
jQuery(document).ready(function(){ resizeCTA(); });
Go Back